I didn't realize the effect love has on time. A year has passed by but it only seems like yesterday. You make my world turn, swivel or revolve in a manner that no one can imagine. Today, I do not want to sit next to anyone except you. I do not want to see another face except your beautiful one. I want to see the smile and the glow on your face.
Nothing can ever keep us apart from each other. Our hearts are locked together. We have become one. Today, I won't be anywhere except where you are. If my love for you was a flower, then it has blossomed, if it was a plant, then it is ripe and if it was wine, then it has reached maturity. I am not sure if any mortal soul can love another beyond the point that I have loved you.
I want to wrap you in my arms because you are a gift to me. You have shown me love beyond measure. You have been able to see through me, and in my moment of weakness and pain, you were there for me and offered me a way out. I can never repay you in any way except to shower you with lots of love.
Today, though I am not a writer, I will write a poem for you. I will sing a song for you even though I know that I am not gifted with a great voice. When I am with you, I know that I can do anything. I will hold you in my arms. I will make new promises. I will stare into those passionate eyes filled with fire. I will utter words that I have never spoken before. I will remind you how wonderful it is to be in love. Most of all, I will continue to appreciate the love that you have given me.
I wish you a great day on our anniversary. Even though today will last only one day, our love lasts forever. I love you always.
---
On this very special day,
I'm sending kisses on your way,
wrapped in love, warmth and bliss,
to reach your heart, eyes and lips.
I've an eternity in my mind,
to celebrate days of this kind,
'cause you can awaken my soul,
and make me happy and whole.
Happy Anniversary my love!
---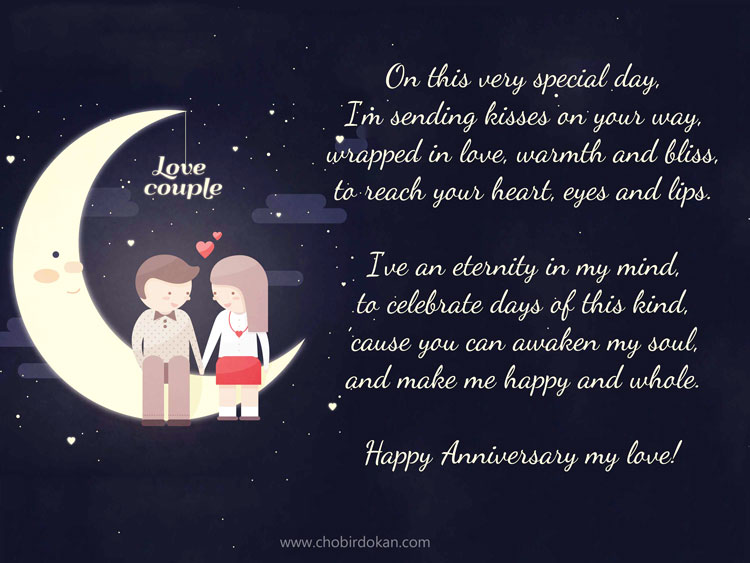 ---
My loving, dearest wife,
you bring sunshine into my life.
You attracted me with a force like gravity,
and out went all my pride and vanity.
All I wanted was to make you mine,
and I knew without you, I won't be fine.
Today, here we are, happily married,
fears and worries, forever buried.
Thank you for being with me through the years,
sharing all my smiles and tears!
Happy Anniversary!
---
---
Decade after decade,
our love would grow, not fade.
'cause our love is eternal,
physical and spiritual.
On a blessed day like this,
I would seal your lips,
with a kiss full of love,
made only in the heaven above!
Happy Anniversary my sweetheart!
---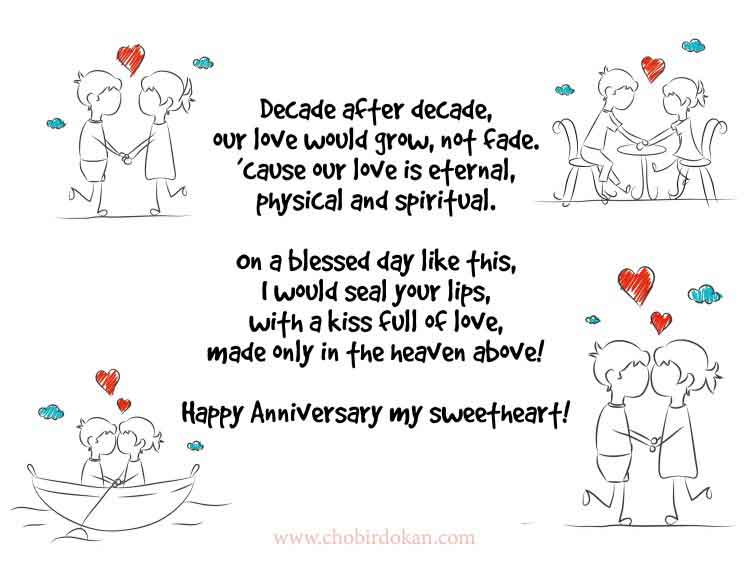 ---
Time stands still,
and forever it will,
when I'm with you,
loving everything you do.
But as we've reached today my love,
Time does seem to move,
cause this is another anniversary,
to celebrate and be happy!
Happy anniversary!
---
---
On our anniversary, I'm wishing upon a star,
twinkling in the sky, so far.
May our love always grow,
everyday, more and more.
May our marriage last forever,
and depart we may never.
May happiness come all day and night,
and may our lives be full of light.
Happy anniversary!
---