Although each single day is a day and a chance to show each other love and affection, some days are undoubtedly extra special. Our anniversary is one of those extra special days that remind me of how wonderful and important you are in my life.
A lot of things have happened between us this year. Some things were meant to bring us happiness, others could have completely broken us down, but thanks to our love, we still found our way back to each other. We are not perfect as humans, but we are perfected in our love, and the love that we have shared this past year is a testament to that.
I thank you for being a part of my life. I thank you for the sweet, but sometimes meaningless words that you whisper into my ears. They soothe my heart and take me to a place where only the two of us exist. I fear spending a day in my life without your love. It would be a tragedy, a catastrophe and something I can never recover from.
Nights are warmer when I am with you. The sun shines brighter when you are around and even water tastes nicer because of you. We haven't grown older as the year has passed by; our love has grown bigger than our hearts. Your smile, even in its simplest form, makes my day. When you touch me, I lose myself in you. I don't know how you do it, but l don't want you to stop.
When we I first met, I didn't think that we would make it this far. You have shown me what love is. I can see, touch and feel it. I now believe in love because of you. I know that tomorrow will be a better day because you will be there with me.
As I reminisce of our beautiful past and fantasize about our future in paradise, I realise that the present is special and real. It is our anniversary.
There is no effort in your love for me; it is a natural part of you. You don't struggle to make me laugh; you always say the right words at the right time. Even though we occasionally have some fights, we never go beyond the point of hurting our hearts. Love is our guiding principle in everything we do, and I am happy that you taught me this.
One does not need eyes to see how much we are meant to be together. Thank you for the little and big things that you do, sometimes without expecting anything in return. Amongst all men, I know that the best one landed in my heart, and I am happy that you did.
You have found a special place in my heart that I thought never existed. I wish you a Happy Anniversary.
---
When I close my eyes,
all I see is you.
Days are pretty and nice,
for they're spent with you.
My love would never vanish,
as it's forever and true.
And my darling, I wanna cherish
this day next to you.
Happy Anniversary!
---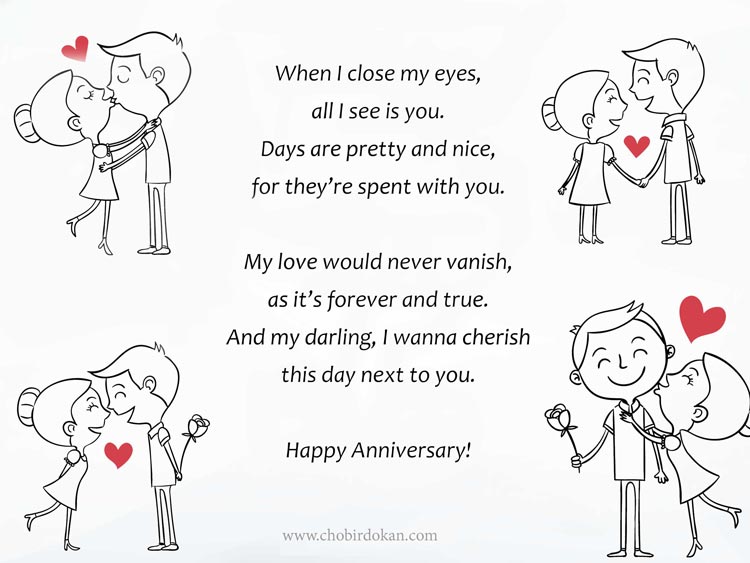 ---
Happy anniversary my darling!
Since I was shot with the Cupid's arrow,
I started loving you everyday,
but quite less than tomorrow,
and way more than yesterday.
My craziness about you has worsen,
from the very first day,
for you are the only person,
to never give my heart away!
---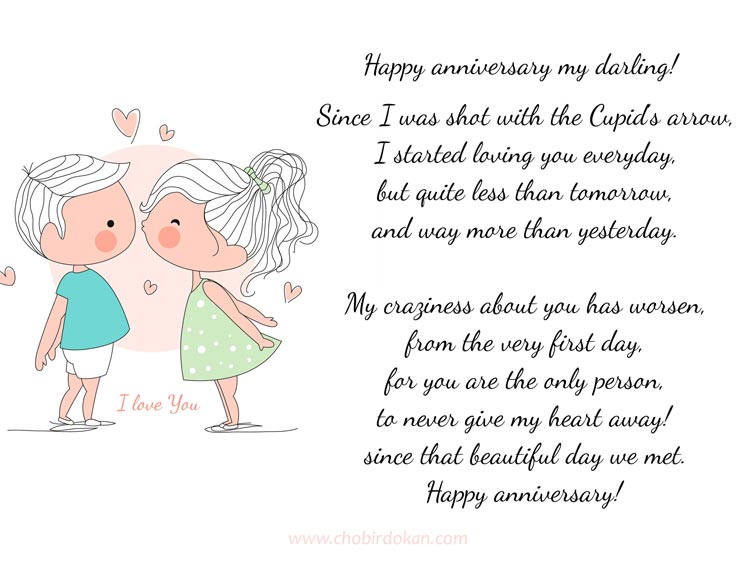 ---
Ours is a love, blossomed with amity,
as I fell for your personality,
everything about you turned into a beauty,
even your smile and mind so witty.
Before I were friends with you,
I teased you for everything you do,
about how lame was your part-time gig,
and that your eyes were almost too big.
All those teeny-weeny fights,
made me fall in love, than great heights,
and get married without any fears,
and stay married for long years!
Happy anniversary!
---
---
From the very first day, I did know,
that your presence is something I can't ignore.
You were born to be my husband,
and to make memories more than a thousand.
With unlimited happiness and laughter,
let's stay married, even in the hereafter.
So on our anniversary, all I wanna say,
is that, I won't let anyone whisk you away!
---
---
Darling, do tell me how,
you made me fall in love,
for my heart was under lock and key,
and I had planned to always let it be.
Marriage was the last thing I had in mind,
but when I realized you are one of a kind,
all I wanted was to marry,
and so did we, in a hurry.
Darling, there's nothing I regret,
since that beautiful day we met.
Happy anniversary!
---