From the beginning, I never liked saying goodbye to you, and I still don't like it. I don't know how we got to a point where I thought I would say goodbye to you forever. Even though I convinced you that it was over between us, I cannot lie to myself any more. My heart still longs for you. At the mention of your name, my heart skips a bit. I know that it's not over, emotions got the better of us and we said things we didn't mean. It was a misunderstanding and I need you back in my life.
Each time I take a walk down the street and see people holding hands, all I think about is you and how we used to hold hands. Whenever I do shopping, I miss the little arguments we had about which product to buy. I miss your smile, your passionate kiss and honest compliments. I miss being with you and telling you my fears and aspirations. Most of all, I miss how special I felt whenever I was around you.
Being with you was a blessing. Talking to you was an inspiration and knowing that we belonged to each other was a dream come true for me. We shared love that many people wish for. Why should we allow something as beautiful as our love to vanish away just like that? I have been with and without you, and my world is better when you are in it.
I know that I am to blame. I have learnt from my mistakes. I am not promising to change right away, but I will try to be a better person and a lover every day. Our love is not gone, it is still there and we just need to find a way to move past through this. I don't want to live my life without you because it was meant to be shared with you.
You are the reason why I fell in love, and you are still the reason why I want to keep on falling in love. Although I said that you don't matter to me anymore, I was only fooling myself. I still love you. I don't want to continue like this. Come back home, come back to me and our hearts will find each other again. Our love only has a beginning but no end. We can never say goodbye, but we can still welcome each other back in our lives.
---
Every time I think of you,
I shed more than a tear or two.
Darling, I miss you so much,
even your eyes, and tender touch.
Why did we have to depart,
When we were bound at heart?
Love for me, was never a game,
and I still love you the same.
Just like the way I love you,
I hope you love me too.
---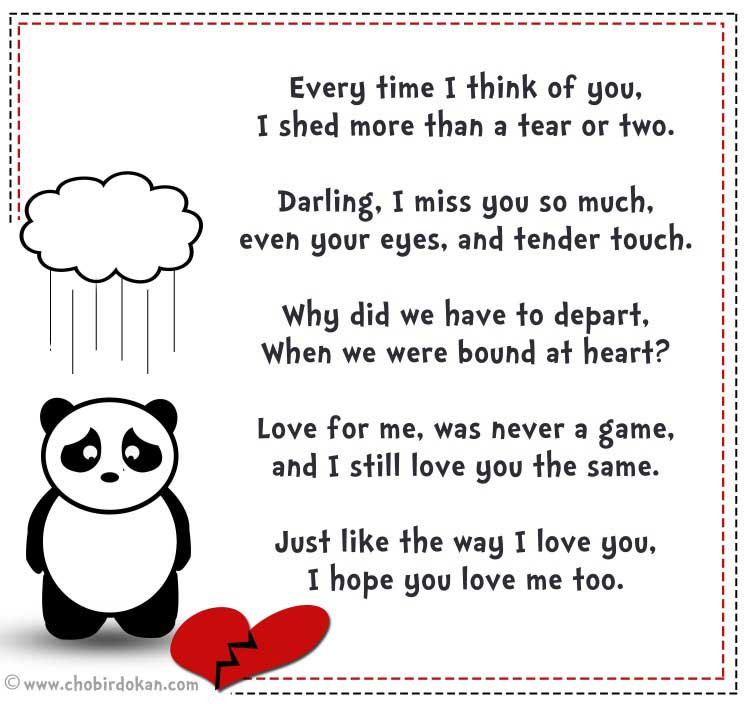 ---
We've been together, over half a decade,
and I never want our love to fade.
Don't let anything separate us,
cause nothing would be worth the loss.
I'm sorry for failing to understand,
gimme another chance to hold your hand.
Let me explain and sort this out,
and forget the reasons for which we fought.
---
---
Ours was a heavenly romance,
and without you, I'm going insane.
Baby, gimme another chance,
and I'm sorry for causing you pain.
I had been a fool to let you go,
for nobody can ever replace you.
None can spark passion like you do,
cause our love is pure and true.
---
---
I've missed your sweet talks,
and our late afternoon walks.
I've missed your beautiful smiles,
and your big, expressive eyes.
I've missed your warm embrace,
and your gorgeous face.
Oh baby, I need you back in my life,
Let's leave behind this bitter strife,
and reunite one again,
cause without you, my life is vain.
---
---
A misunderstanding has come our way,
but I promise you to never betray.
Please forgive me for making you cry,
don't ever wave me goodbye,
for I love you from my inner core,
way more than you will ever know.
All we ought to do is, discuss.
So don't let this separate us.
---