---
You are the silver lightning, in every dark cloud,
You are the reason why my heart is beating loud.
You are the golden rose, in a yellow rose garden,
You are the love of my life, pure and maiden.
You are the queen bee, in a massive bee hive,
You are the one, who is keeping me alive.
You are the glowing moon, in a dark, lonely sky,
You are the angel, bringing me constant joy,
You are the gift, I would treasure but never give away,
So darling, I wish you a Happy Valentine's Day!
---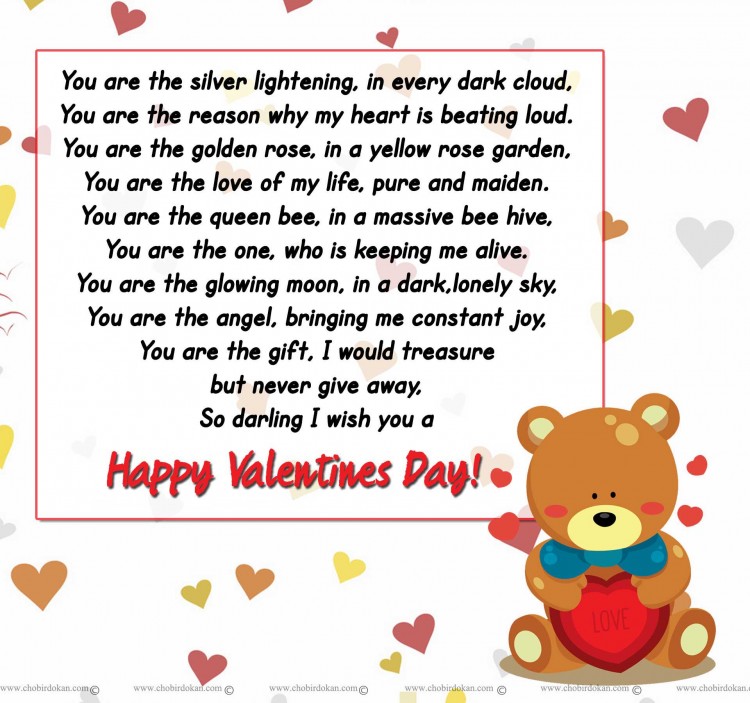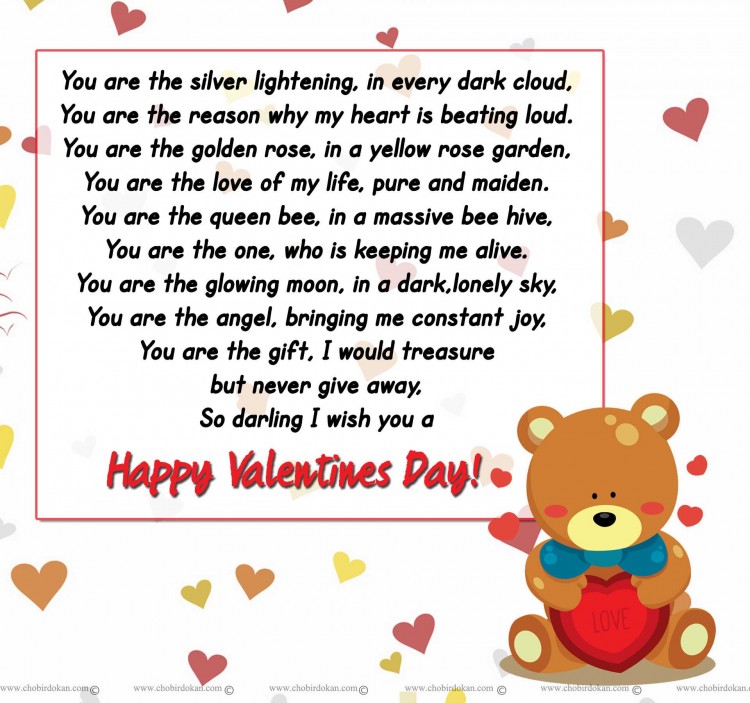 ---
Valentine's Day is here my love,
Angels are singing from the heaven above,
Red roses are dancing as they are being plucked,
Cupid is searching for targets to be knocked,
New flavors and shapes of chocolates are made,
For diamonds and gems, millions are paid,
Gifts are wrapped and sealed with kisses,
Lovers await the dawn to exchange wishes,
But for me, everyday is like Valentine's Day,
for I cherish you, every passing day,
But anyway, Happy Valentine's Day!
---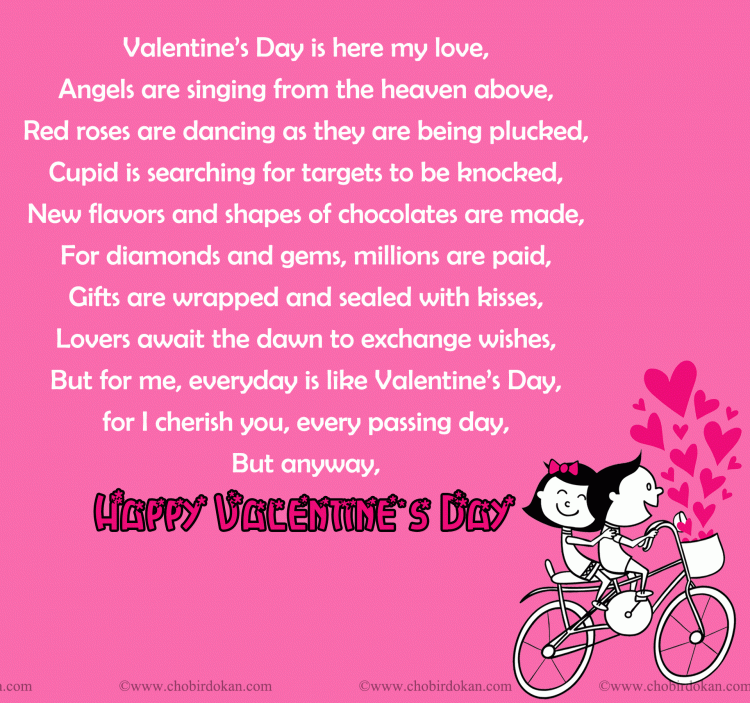 ---
Your laughter, is the melody ringing in my ears,
Your care, is always felt in my heart,
Your love, is cherished over the years,
Your eyes, I've fallen for them from the start.
Your name, is a continuous whisper in my mind,
Your lips, are capable of awakening my soul,
Your heart, is a precious one of a kind,
Your love, to be won forever is my goal.
My prince,
With you, for an eternity I would stay,
With this vow, I'm wishing you a Happy Valentine's Day!
---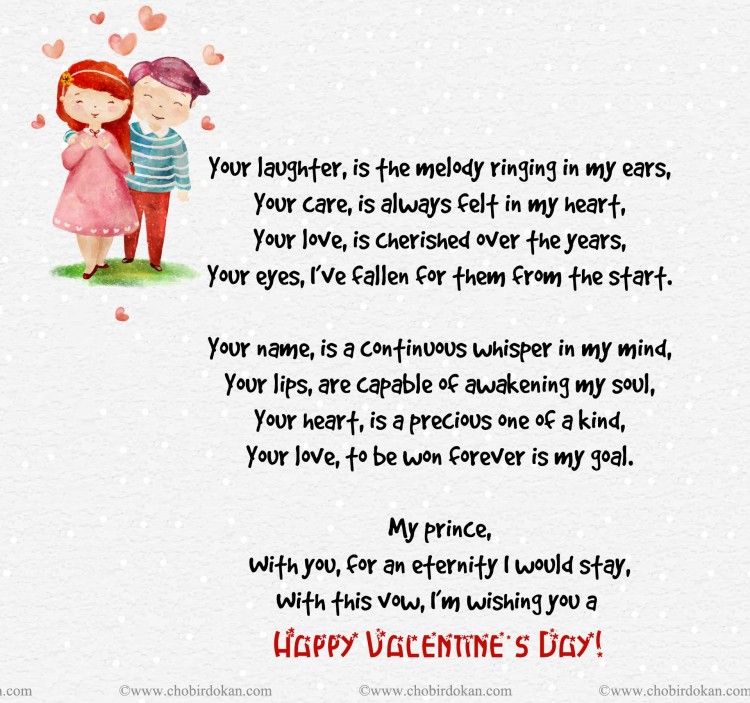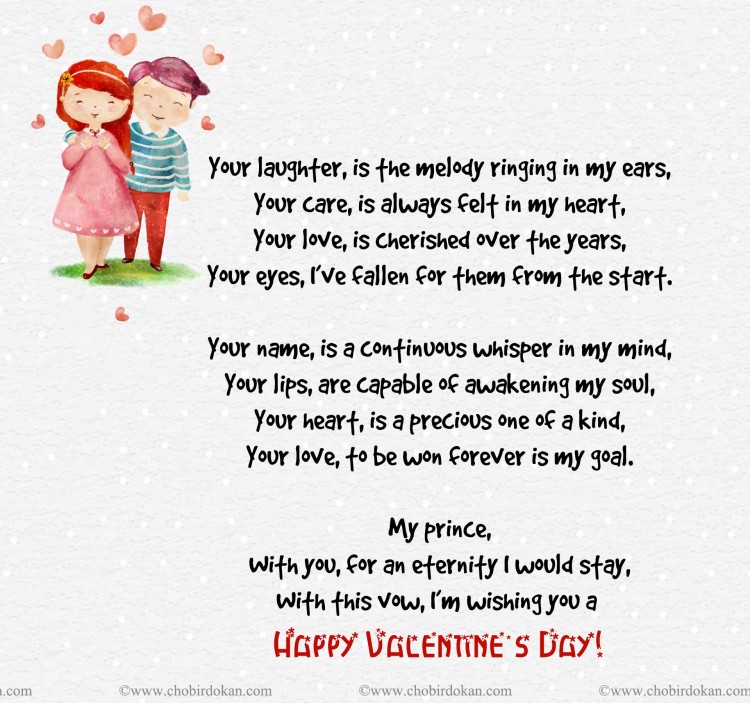 ---
My love for you grows.
It always grows.
like a tiny seed,
growing into one large tree,
like a wild seaweed,
spreading across the whole wide sea,
like a massive air baloon,
stretching to its capacity,
like a flower in june,
blossoming with audacity,
my love grows.
For you it grows.
Happy Valentine's Day!
---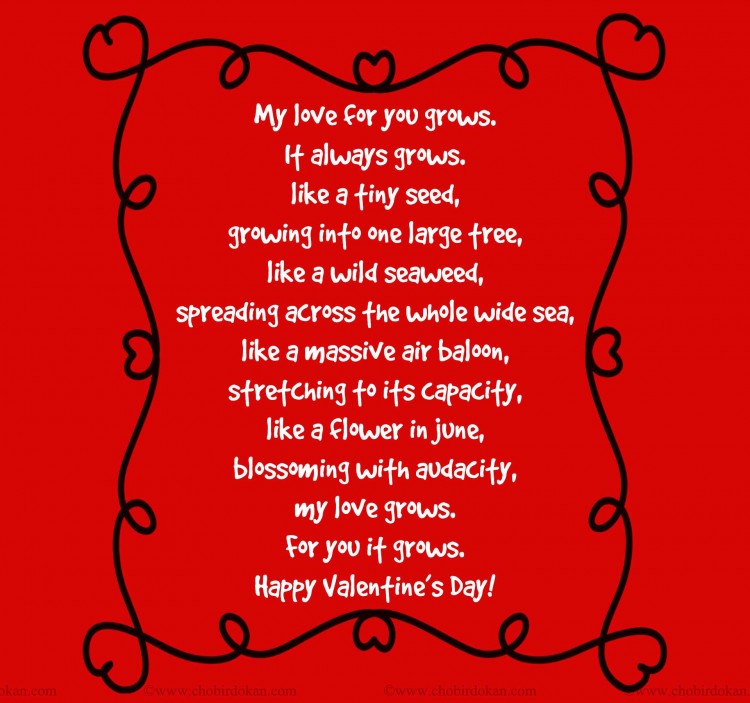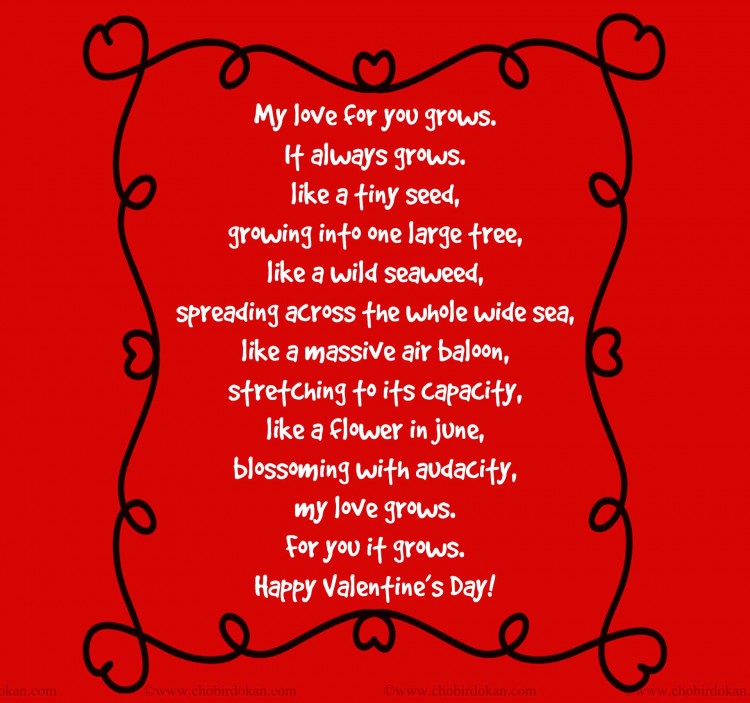 ---
Remember on our last Valentine,
You threatened me to call the cops,
'cause I have committed a crime?
I couldn't have been more shocked!
When I questioned what it was this time,
You criticized that I've stolen something,
precious and kept under lock and key,
Confused, when I asked again what it was,
You pushed me to a corner,kissed me hard,
and told me that it was your heart!
---