Do you believe in love without limit? If not, You have to read this incredible love story of Nick Vujicic and Kanae Miyahara. This Love Story will surely remind you that true love still exists.
We are used to reading love stories where a handsome man meets a beautiful princess, they fall in love and live happily ever after. But Nick and Kanae's love story is a unique one. Here is where a beautiful young girl who meets a totally disabled man, they fall in love and get married. It can somehow be likened to Beauty and the Beast, where in this case Nick is not ugly but incapacitated to a point where it is only true love that could drive Kanae for him. How did it happen?
Nick Vujicic and Kanae Miyahara -Love Without Limits
Nick and Kanae first met in 2010 and it was love at first sight. There was a small event in Dallas, where Nick was a guest speaker and Kanae was attending it. Before Kanae met Nick, she had been in other relationships which were motivated by the physical attraction. But when she met Nick, she was attracted to the inner person in Nick. Nick was totally different from her current boyfriend of the time. He possessed rare qualities that are rare to find in men; qualities which were godly and out of this world; qualities that made him get filial love by many Christians and non-Christians alike. Whenever Nick spoke, he touched the multitude that gathered to listen to him – a Christlike feeling.
Was theirs love at first sight? Definitely for Nick, but for Kanae, she wasn't sure if she was infatuated or in love. But what she remembers is, she felt a strong attraction towards Nick on that fateful night at the Bell Tower in McKinney Texas at the Adriatica. She felt her eyes interlock Nick's and she felt a certain chemistry.
Nick was the first one who got mesmerized by the beauty of the Japanese-Mexican born Kanae. At the end of the Dallas event, Nick had an opportunity to talk to Kanae. Though the Serbian-born Australian evangelist was sure of his feeling for Kanae, the beautiful lady wasn't sure of what she was feeling for Nick.
Nick didn't let the dust settle; he made it a point to text Tammy, his friend, and fellow motivational speaker. Love was in the air and like a cough, couldn't be hidden any longer. Tammy was the one Kanae and Yoshie were working for as Nannies. He wanted Tammy to match-make for him Kanae. Their romance was in the air; concentration was a problem even during the entire speech; words couldn't explain what Nick was feeling for Kanae Mirayahara. But one thing Nick was sure of being, he was in love with this beauty. According to Nick, this was the first God fearing woman he was having a crush on
Apart from her beauty, Nick was pulled to the self-assurance and kindheartedness of Kanae. The love, the patience, the meekness, name them all; these are the qualities Nick loved in this wonderful God fearing lady. Communication was a must in order for Nick to establish a relationship with Kanae; he wanted to give her his email so that he could be assured of direct communication from her. He wanted to beg and plead with Kanae, but due to him adhering to what his dad told him when he was young that real men don't beg, he restrained from doing so. Kanae promised him that she will get the email from Tammy.
The matchmaker misunderstood Nick's message, and instead of connecting Nick to Kanae, he forwarded Nick's message to Yoshie, Kanae's sister. This was the beginning of the love comedy between Nick and Kanae; here Nick is professing love for Kanae, her sister Yoshie assumes she is the one who has pulled Nick's emotions.
It took times to convince Yoshie that she was not the one. This can be related to the story of Leah and Rael in the bible where Jacob loved one woman but was forced to marry the other one and wait a little bit longer to get his love Rael's hand in marriage. But thanks to the modern technology, though it took times to convince Yoshie she wasn't the one, Nick didn't have to marry her first before marrying his love Kanae, things just sorted themselves out.
Was this a blessing in disguise? Definitely yes, because it gave them time to re-evaluate what it really is that they felt for each other. Was it love or infatuation; and for Kanae, was it pity she was feeling for Nick or true love. During this period of time, they both leaned on God through prayer.
It was during this waiting time that Kanae found out that her current boyfriend was not the man God destined for her. She quit the relationship and this now gave her the opportunity to frequently talk to Nick on the phone and seeing each other quite often. They started a courtship with a hope that their love will blossom into marriage. The two stumbling blocks to their relationship; Yoshie and Kanae's boyfriend had been sorted out.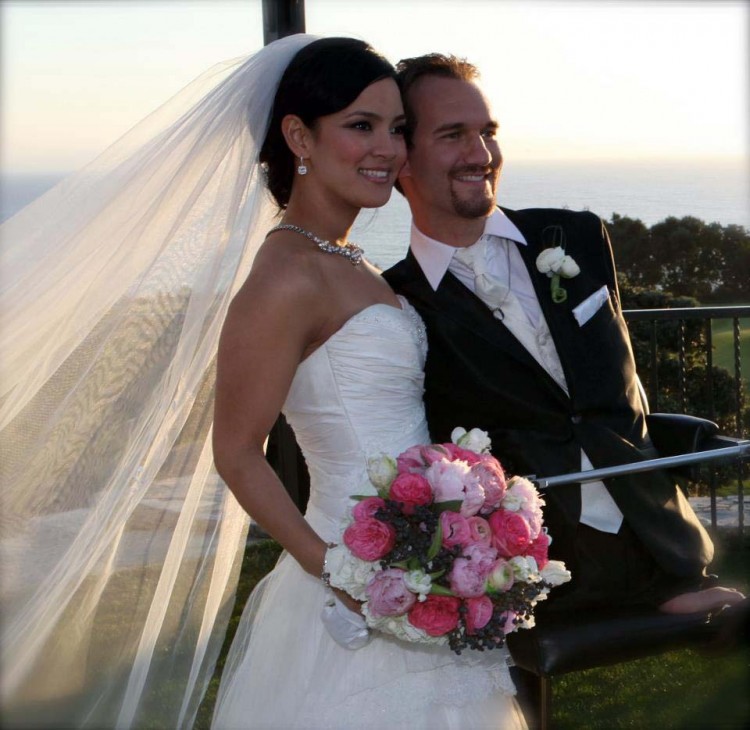 From there onwards, things happened so fast for these two love birds. Nick made it public on Facebook that he was engaged to Kanae. This happened on the 1st of August, 2011 on a Yacht at Santa Barbara. You might wonder how Nick managed to place the engagement ring on Kanae's finger; this was done in a very simple way; he used his mouth to place the wonderful ring. They got married on 12th February 2012 and on 13th February 2013, they were blessed with a baby boy.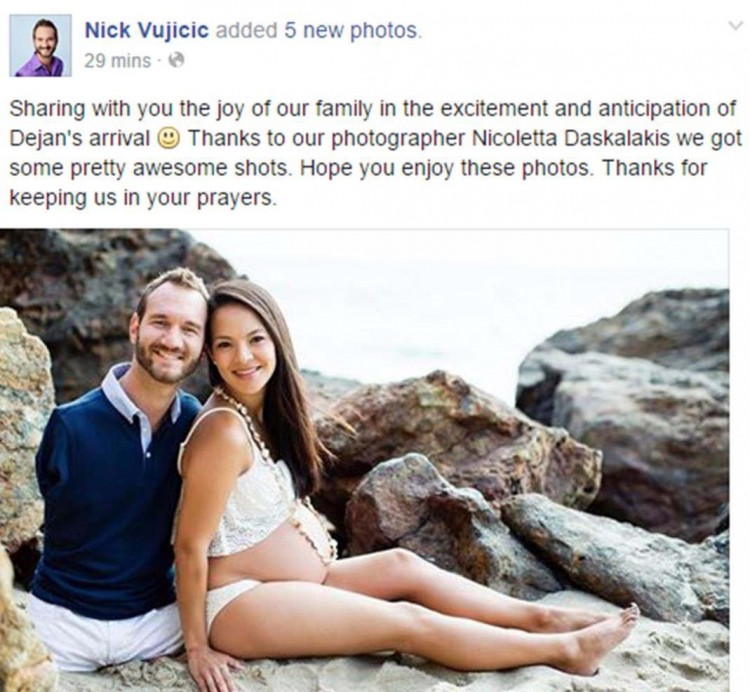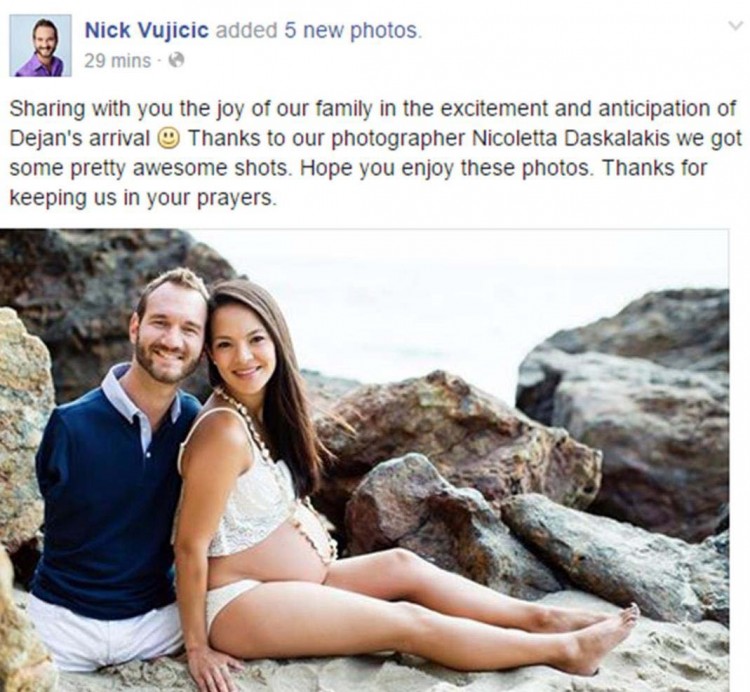 Nick and Kanae's love story is an example of making the impossible, possible.Both of them had tried several relationships and dating which ended in disappointments. In his mid-twenties, Nick was sure that nobody will ever take him for a husband. He didn't let this deter his determination to try again and again without giving up. He soldiered on until he met his dream mate, Kanae Miyahara. Kanae on the other hand, had tried several handsome men and they all disappointed in one way or another; not husband material until she met Nick.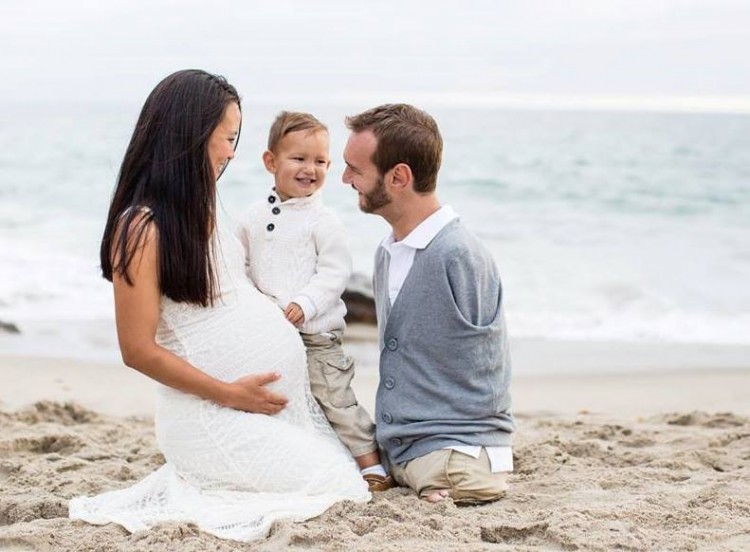 After reading Nick and Kanae's story, it is possible to declare that, nothing can stop one from loving. Nick's disability did not deter him from falling in love, betrothing and finally marrying Kanae Miyahara. Kanae on her part didn't allow the physical appearance of Nick to deter her from loving Nick. Before she had been into relationships with handsome "whole" men, but who were empty in character.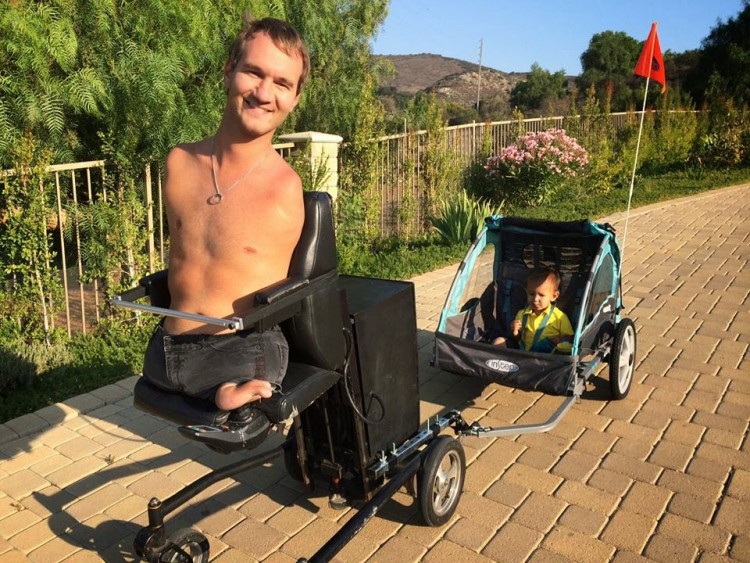 Nick never lets his fears of rejection rule his life. Instead, he overpowered it. His faith in God saw him through tough times in life. It proves the saying that, it doesn't take a perfect person to find a perfect love. He refers to the twists and turns in his relationship with Kanae Miyahara as a romantic comedy. During their love journey, there were skeptics, who thought they won't make it to the end due to the physical, but none of their skepticism could stop Nick Vujicic and Kanae Miyahara from falling deep into love.
You might be interested in watching this video: