Are you looking for some cute kissing quotes images to share with him or her? This post is all about kiss picture quotes. Kiss is so exciting if it is your first one. No one can forget the feelings or test of the first kiss. Hope you will enjoy these kissing pictures with quotes.
ALSO SEE:  HD Kissing Wallpapers For Him Or Her
Cute Kissing Quotes Images
Here are some sweet kiising quotes images that you may love to share with your boyfriend/husband or girlfriend/wife.
Quotes#1
---
A legal kiss is never as good as a stolen one.
-Guy de Maupassant
---

Quotes#2
---
Always remember this: A kiss will never miss, and after many kisses a miss becomes a misses.
-John Lennon
---

Quotes#3
---
A kiss can be a comma, a question mark, or an exclamation point. Thats basic spelling that every woman ought to know.
-Mistinguett
---

Quotes#4
---
A kiss may ruin a human life.
-Oscar Wilde
---

Quotes#5
---
A kiss is a lovely trick designed by nature to stop speech when words become superfluous.
—Ingrid Bergman
---

Quotes#6
---
A kiss that speaks volumes is seldom a first edition.
-Clare Whiting
---

Quotes#7
---
A friend is always good to have, but a lover's kiss is better than angels raining down on me.
-Dave Matthews
---

Quotes#8
---
A kiss without a hug is like a flower without the fragrance.
-Proverb
---

Quotes#9
---
Ancient lovers believed a kiss would literally unite their souls, because the spirit was said to be carried in one's breath. 
-Eve Glicksman
---

Quotes#10
---
A kiss makes the heart young again and wipes out the years.
-Rupert Brooke
---

Quotes#11
---
A kiss is just a pleasant reminder that two heads are better than one.
-Author Unknown
---
Quotes#12
---
A kiss is a secret which takes the lips for the ear.
– Edmond Rostand
---
Quotes#13
---
A kiss that is never tasted, is forever and ever wasted.
-Billie Holiday
---
Quotes#14
---
Any man who can drive safely while kissing a pretty girl is simply not giving the kiss the attention it deserves.
-Albert Einstein
---
Quotes#15
---
Boys always like to see girls kiss. I don't get it; girls don't want to see boys kiss.
—Dominique Swain
---
Quotes#16
---
Each kiss a heart-quake…
-Lord Byron, Don Juan
---
Quotes#17
---
Happiness is like a kiss — it feels best when you give it to someone else.
-Author Unknown
---
Quotes#18
---
He kisses like he's dying of thirst, and I'm water.
-Jennifer L. Armentrout
---
Quotes#19
---
It takes a lot of experience for a girl to kiss like a beginner.
-Ladies Home Journal
---
Quotes#20
---
Is not a kiss the very autograph of love?
-Henry Finck
---
Quotes#21
---
I didn't want to kiss you goodbye—that was the trouble—I wanted to kiss you good night—and there's a lot of difference.
—Ernest Hemingway
---
Quotes#22
---
Kissing is a means of getting two people so close together that they can't see anything wrong with each other.
-Rene Yasenek
---
Quotes#23
---
Kisses are like tears, the only real ones are the ones you can't hold back.
-Author Unknown
---
Quotes#24
---
Kissing is like drinking salted water. You drink, and your thirst increases.
-Chinese Proverb
---
Quotes#25
---
Some women blush when they are kissed, some call for the police, some swear, some bite. But the worst are those who laugh.
---
Quotes#26
---
The truth is, I always want to kiss you.
—Alex Rosa
---
Quotes#27
---
The kiss is neither returned nor exchanged, because it's free.
—Charles de Leusse
---
Quotes#28
---
The kiss itself is immortal. It travels from lip to lip, century to century, from age to age. Men and women garner these kisses, offer them to others and then die in turn.
—Guy de Maupassant
---
Quotes#29
---
The lover steals a kiss. He incurs life imprisonment.
—Charles de Leusse
---
Quotes#30
---
Unfortunately, I like to feel a little stubble when I kiss. Women are too soft.
—Malin Akerman
---

Quotes#31
---
The real lover is the man who can thrill you by kissing your forehead or smiling into your eyes or just staring into space.
—Marilyn Monroe
---

Quotes#32
---
The sound of a kiss is not so loud as that of a cannon, but its echo lasts a great deal longer.
-Oliver Wendell Holmes, Sr.
---

Quotes#33
---
When I kiss you, I can taste your soul.
-Terri Guillemets
---

Quotes#34
---
When I saw you, I was afraid to meet you… When I met you, I was afraid to kiss you… When I kissed you, I was afraid to love you… Now that I love you, I'm afraid to lose you.
-Anon
---

Quotes#35
---
Your love is not really love until you waste it, a kiss is never a kiss until you taste it…
—Munia Khan
---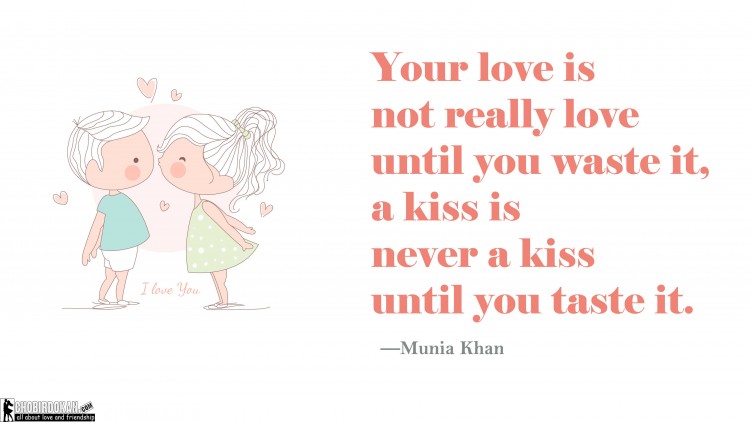 I always love kissing quotes images. Love kiss is always so special. Have you liked these kissing quotes images. If you do, share this post with your friends and help it to spread out.