Ancient African Proverbs About Love That Will Make You Think everything in a different and precise way. There are so many wise geeks born in African continental. Proverbs help us to learn about life and reality.
A proverb is a simple and concrete saying, popularly known and repeated, that expresses a truth based on common sense or the practical experience of humanity. They are often metaphorical. A proverb that describes a basic rule of conduct may also be known as a maxim.
Proverbs are always great if you want to learn about the culture of the country from which it originated. Proverbs will increase your wisdom as they are the result of the experiences of a nation. African proverbs about love are one the best sources of learning the secret of life or relationship e.g. love, friendship. These proverbs are full with a sense of humor as well as wisdom. They are typically short and to the point. You will get some great African Proverbs on love and marriage. Hope you will enjoy them reading.
Ancient African Proverbs About Love That Will Make You Think
In this Post, I placed some beautiful and wise proverbs on love, marriage and relationship from African continental. Hope you will enjoy them.
Proverb#1
It's much easier to fall in love than to stay in love. ~ African proverb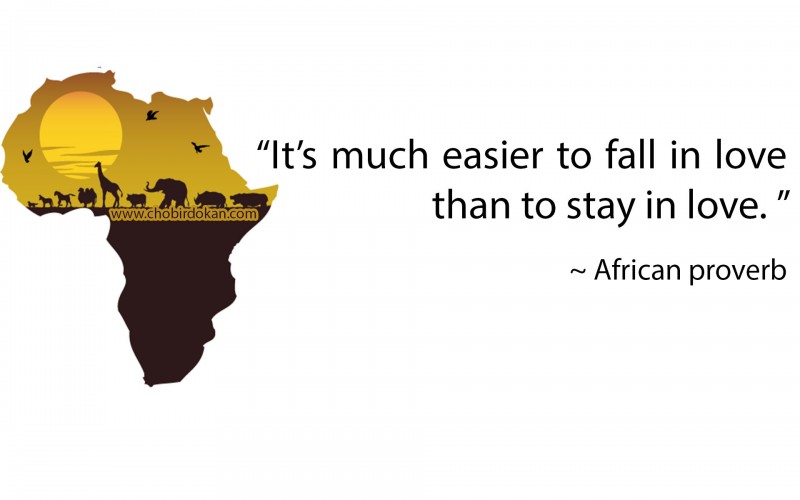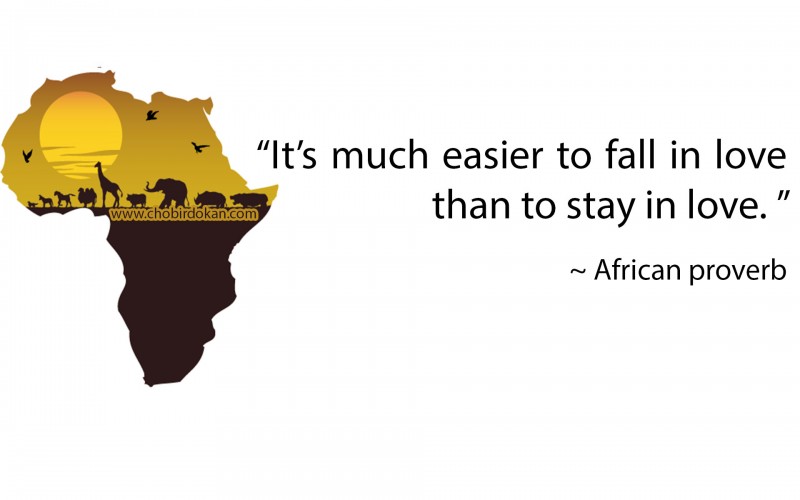 Proverb#2
Love is a spontaneous process. If you choose a person because his/her beauty, wealth, or any other criteria match with your need and desire, and then proceed to love him/her, that can be anything else but never be love. Love is a feeling that comes automatically for a person, you will feel it in your heart. Your love will pour out for the person just like rain. The proverb can be interpreted from a different angle too. A true human heart should love without differentiating. Rain, when falls does not choose the grass on which it will fall. For a better peaceful world, we should pour out our love like rain without being bothered about religion, poor or rich, black or white.
"Love, like rain, does not choose the grass on which it falls.  " ~ South Africa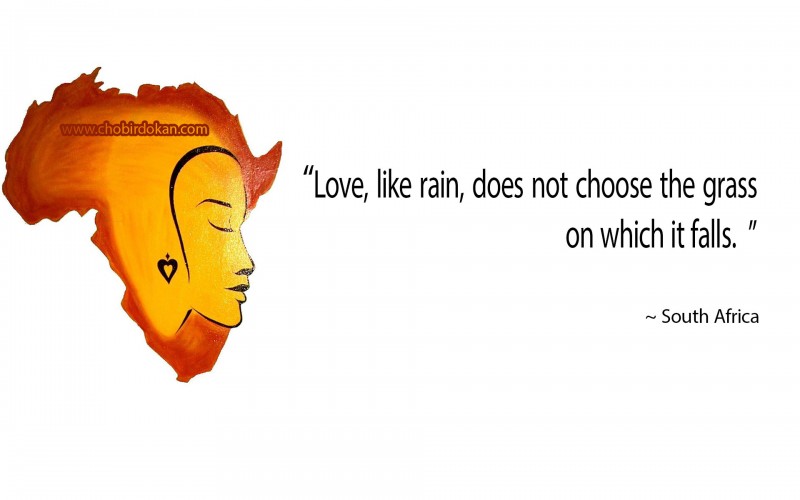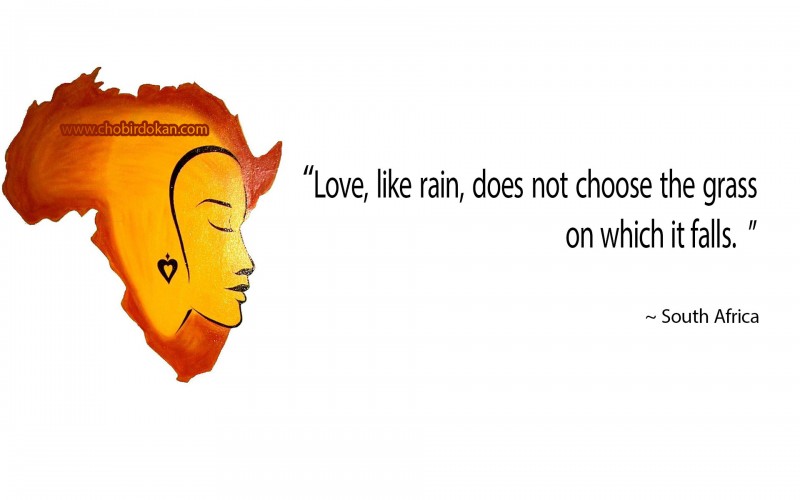 Proverb#3
He who loves the vase loves also what is inside. ~ African proverb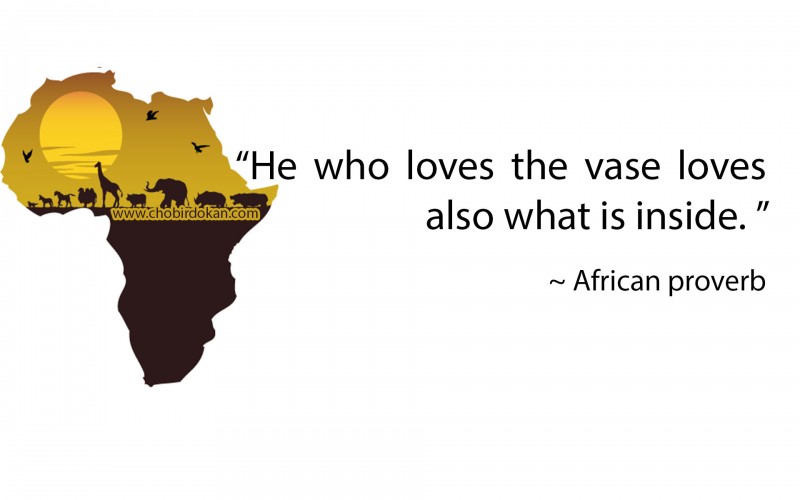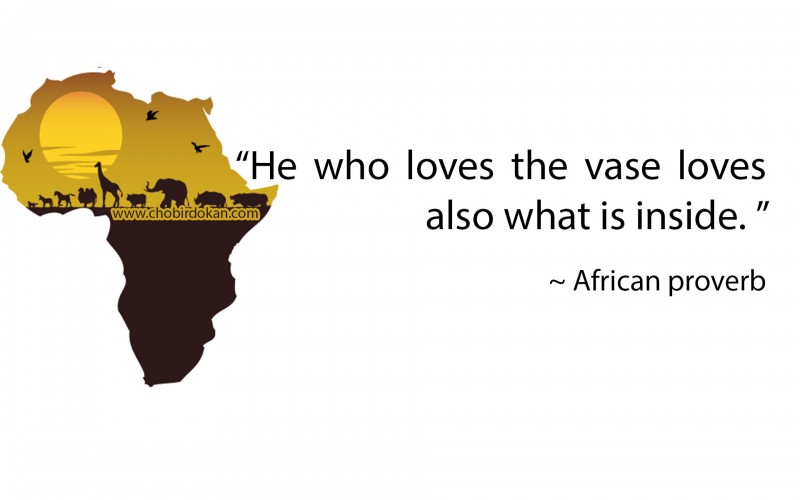 Proverb#4
Love and relationship can be built up between two hearts before or even after marriage. To marry the girl you love surely brings some great happiness in your life. But that happy dream you have built can turn into a nightmare if you cannot retain that love relationship. To be happier in life, you must love the girl even after marriage. Perhaps it will require some compromise, some sacrifice. But to be happier, you must love your wife. In some cases, as some culture supports, this might also happen that couples get married without even properly knowing each other. After marriage, a mutual feeling grows up resulting a longer lasting love relationship. Since such relationship is deep and pure, it makes the person happier than that guy who marries the girl who loves but fails to retain that love.
A happy man marries the girl he loves, but a happier man loves the girl he marries. ~African proverb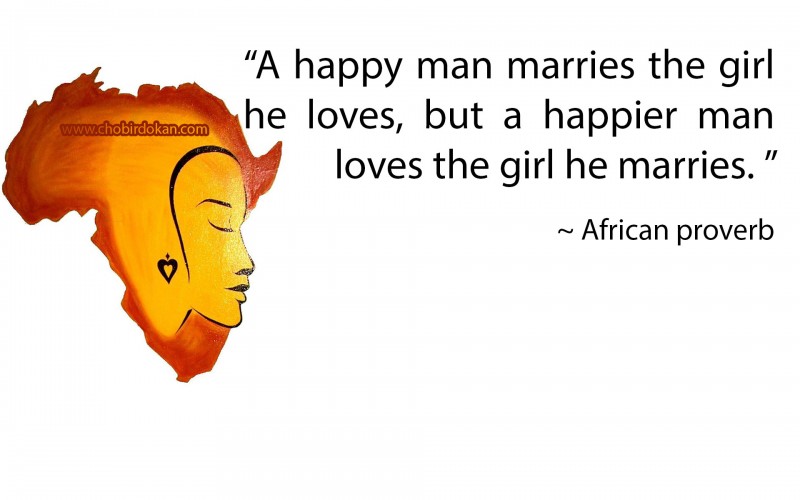 Proverb#5
Though at first glance the proverb seems quite funny but a deep thought reveals the fact. In this cruel world, amidst the crowd of fake lovers and false feelings, it's quite impossible to find out the true love. Only death can truly expose who really feel for you, love you. That's why pretending to be dead can be a great solution though quite impractical.
Pretend you are dead and you will see who really loves you. ~ African proverb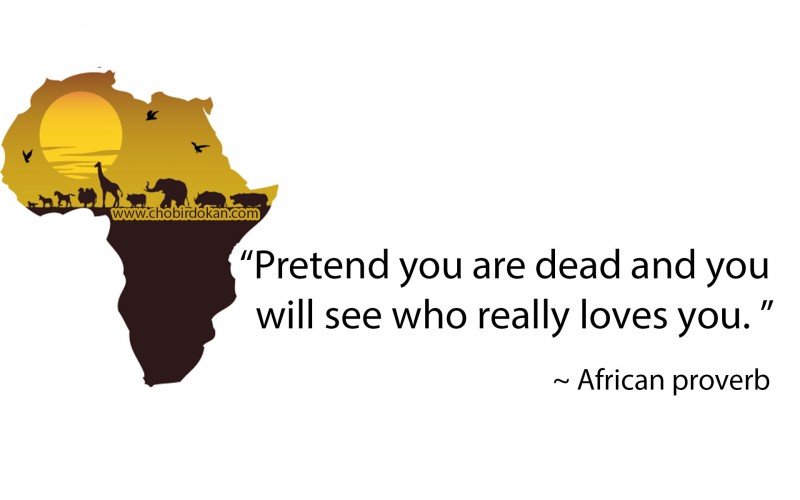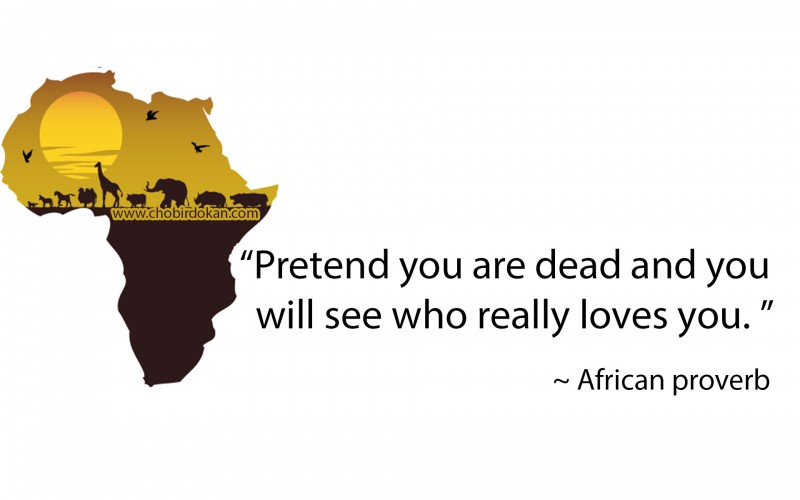 Proverb#6
Love never gets lost it's only kept. ~ African proverb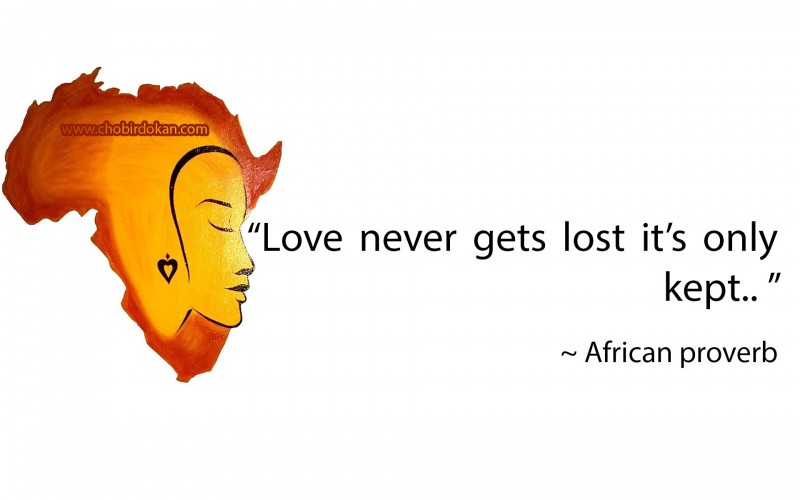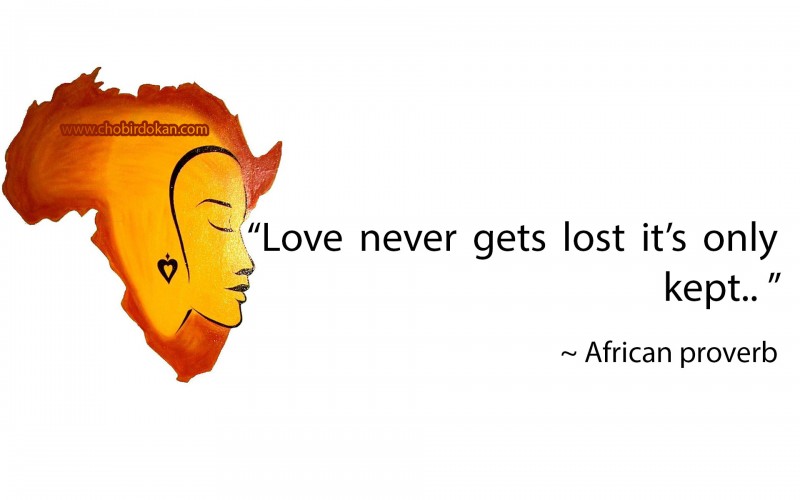 Proverb#7
Sometimes love is considered as a disease due to the mental disturbances persons face because of their involvement in a love affair. It's not wrong that being in love causes sometimes some unwanted, unpleasant feeling resulted in some kind of mental trauma. Since two persons involved in a love affair are not of same mentality, same point of view some misunderstanding occurs, which causes heartache. Patience here is the best remedy. Handling a situation with harsh and loud words will bring no good rather a patience conversation can easily solve the issue.
If love is a sickness, patience is the remedy.
Proverb#8
Little bit jealousy is required in love. Without it love is not love at all. For instance, if you see your girlfriend staring at another boy or your boyfriend at another girl with a praising look, and if you don't feel a feeling of jealousy within you, then, according to this proverb, you are not in love at all.
He who doesn't feel jealousy is not in love.
Proverb#9
The two people in love understand each other the most. The feelings, liking and disliking of a person are best understood by the person who loves him/her. If there is a lack in understanding between the two people, these two are supposedly not in love.
Perhaps you do not understand me because you do not love me.
Proverb#10
A broken heart hurts much more than a broken backbone. There is surely some medicine to heal the pain of a wounded back, but no medicine can soothe the terrible pain of a broken heart. So, it's better to break the back falling from a tree than to break your heart falling in love.
It's better to fall from a tree and a break your back than to fall in love and break your heart.
Proverb#11
Two persons who are totally different from each other in their mentality, the way of thinking or point of view can be involved in a love affair, but their relation in the long run, i.e. after marriage can never be a happy one. To build a happy home, it needs to compliment each other, to support each other, to understand each other, to ensure each other's space.
A fish and bird may fall in love but the two cannot build a home together.
Proverb#12
A person who doesn't love own self can never build a love for others. When a person can respect and love his own quality, capability, then s/he can spread his/her love for others.
To be able to love other people you must be able to love yourself.
Proverb#13
There is no better painkiller than love. Only medicine can never cure a disease. It requires love and care to be fully cured. Love has some magical power that can heal the pain of a diseased soul, a wounded heart. And that's why love is the best painkiller.
Love is a painkiller.
Proverb#14
Love is such a thing that cannot be lost or just vanished. It is kept secretly in one's heart when he lost the desire of showing it for his loved one for any reason. Even sometimes he himself doesn't know the fact. He just thinks he lost his love. But if he searches deep inside his heart, he will surely recover it.
Love never gets lost it's only kept.
Proverb#15
Though there is surely some exception, the proverb is quite practical. When a brother is richer than other brother, there exists negligence, superiority complex from the rich brother, and some jealousy, inferiority complex from the poor brother's part. These problems cannot let love to reside between these two brothers. But when two are same regarding wealth, there is nothing to stop love.
Brothers love each other when they are equally rich.
Proverb#16
In a true love relation, the two involved in love shares everything, happiness, sorrows, or any earthly things. The two are the equal owner of everything each possesses. And here lies the true essence of love.
True love means what's mine is yours.
Proverb#17
The rain that falls on the forest is washed away. Similarly, the love which a person gives one but gets no love in return is nothing but wastage. The precious love truly blooms only and only when it gets the same back.
Loving someone that does not love you is like loving the rain that falls in the forest.
Proverb#18
Showing power or force cannot always be the best way. The result of snatching away anything using power can never be good in the long run. But if love is used instead of force, the result is outstanding since love has some magical power. So it's totally unwise to use force when we can solve the problem only just using the great power of love.
Why take away something by force which you can obtain by love.
Proverb#19
Love is such a disease, if you say so, which cannot be cured by any physician. It is only love in return that can soothe the pain of a love-sick heart.
There is no physician who can cure the disease of love.
If you find this post interesting and useful, don't forget to share them with your friends and family. Because wisdom should be spread out as much as possible.