I am just a great fan of Bob Marley Quotes. His quotes are very simple and true to lives at the same time. He brings out many important relationship facts in his sayings in a very pragmatic way. His quotes have the power to enlighten the hearts with pure love, to teach how to really love.Experience the power of Bob Marley  Quotes About Love And Life.There is a chance that you might start evaluating your life in a different way. I am pretty sure that you will be amazed and touched by his word or saying given below.
Robert Nesta "Bob" Marley, OM was a Jamaican reggae singer, songwriter, musician, and guitarist who achieved international fame and acclaim.He has some great sayings about life, music, love etc which made him much more famous among people. He has a very clear knowledge about the philosophy of life. If you read his quotes,
Today I am going to share some of his best quotes about Love, Friendship and Life.
Bob Marley Quotes About Love And Life
Quote#1: The Biggest Coward of a Man
To pretend to love a girl, to lure her fall in love without even the intention of loving her is nothing but a coward ish job. It really requires courage and strength to be in an honest love. So, don't awaken the love of a woman if you are not ready to weave the dream together. Don't love like a coward, if you really want to love, love manly.
"The biggest coward of a man is to awaken the love of a woman without the intention of loving her."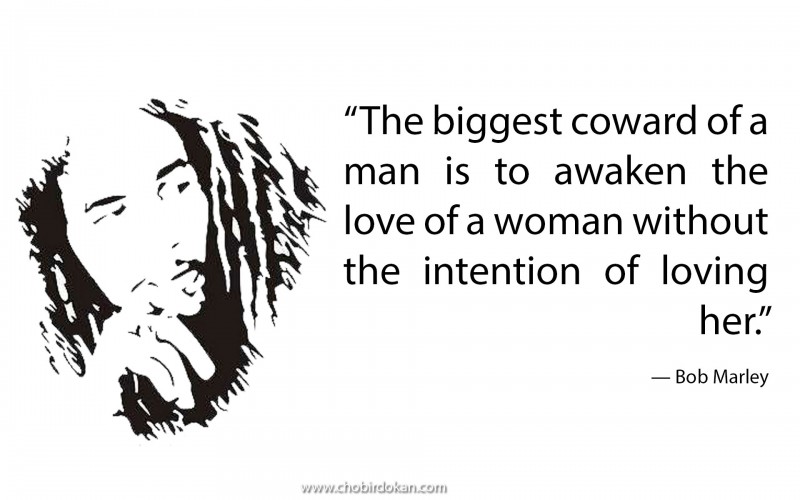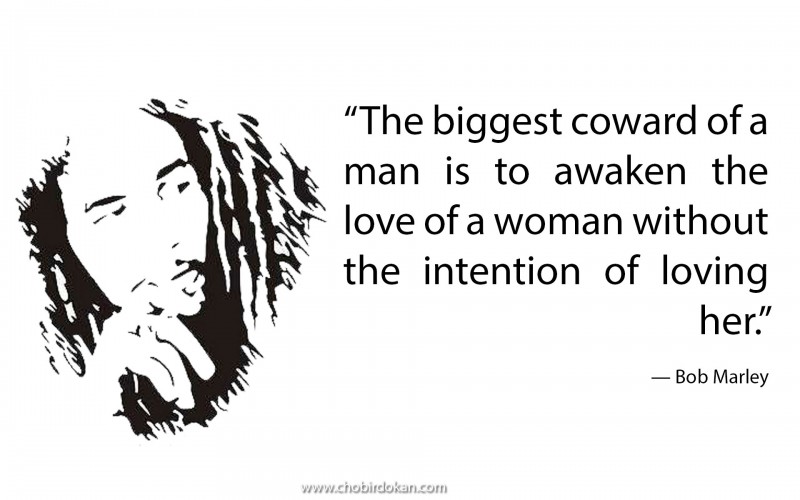 Quote#2: Don't Cry For Fake Love
We should not mourn for what we have lost, for what which has been gone away because life takes away something very dear from us, and again compensates us with anything else. This is the rule of life, of nature. And for that, it should be wise not to cry for something that have been taken from us, rather love something we are gifted with. We people should always remember, the thing or person which/who is really ours, can never ever be gone forever. This is the power of true love which will make them return to us.
As He Says-
"The winds that sometimes take something we love, are the same that bring us something we learn to love. Therefore we should not cry about something that was taken from us, but, yes, love what we have been given. Because what is really ours is never gone forever."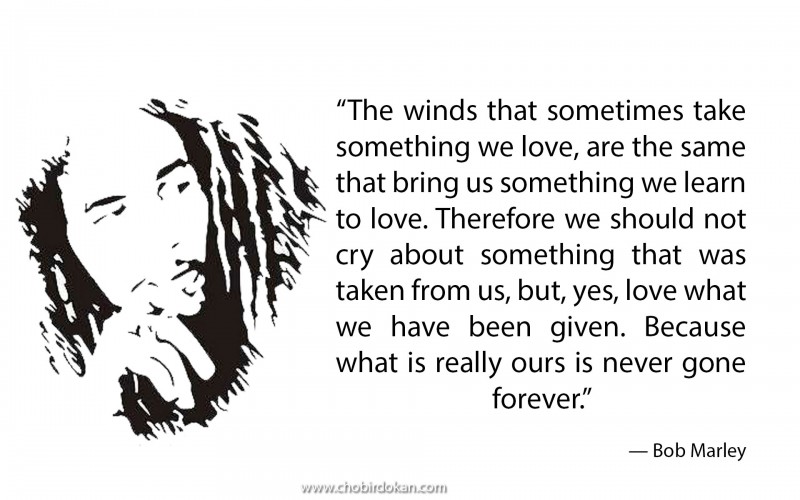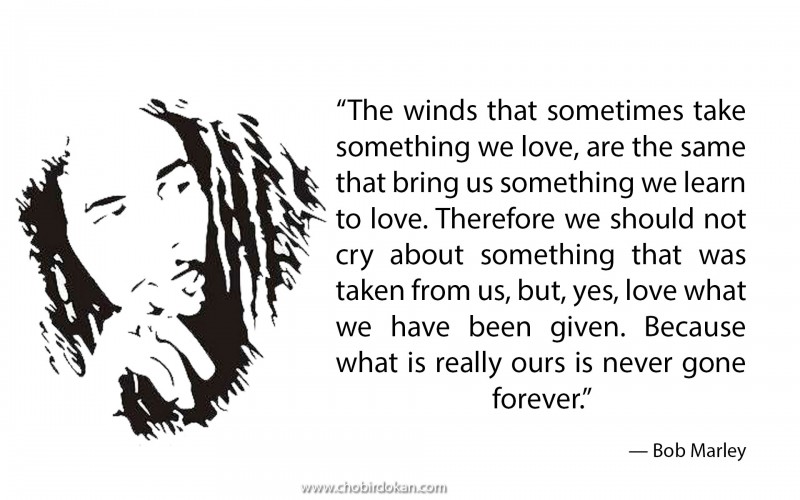 Quote#3: Perfect Guy's Doesn't Exist
"He's not perfect. You aren't either, and the two of you will never be perfect. But if he can make you laugh at least once, causes you to think twice, and if he admits to being human and making mistakes, hold onto him and give him the most you can. He isn't going to quote poetry, he's not thinking about you every moment, but he will give you a part of him that he knows you could break. Don't hurt him, don't change him, and don't expect for more than he can give. Don't analyze. Smile when he makes you happy, yell when he makes you mad, and miss him when he's not there. Love hard when there is love to be had. Because perfect guys don't exist, but there's always one guy that is perfect for you."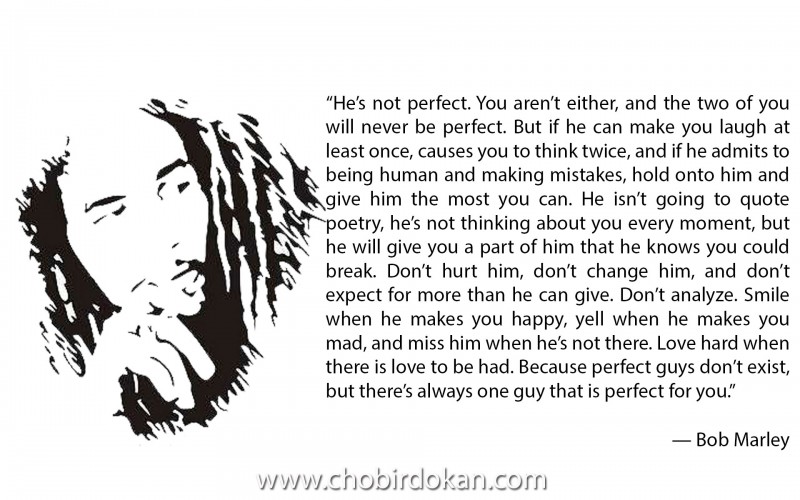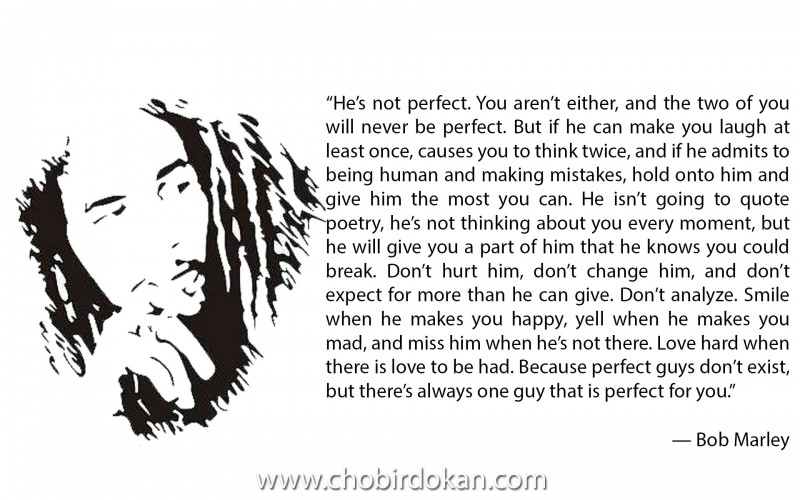 Quote#4: Love, Heart and Destiny
"One love, one heart, one destiny."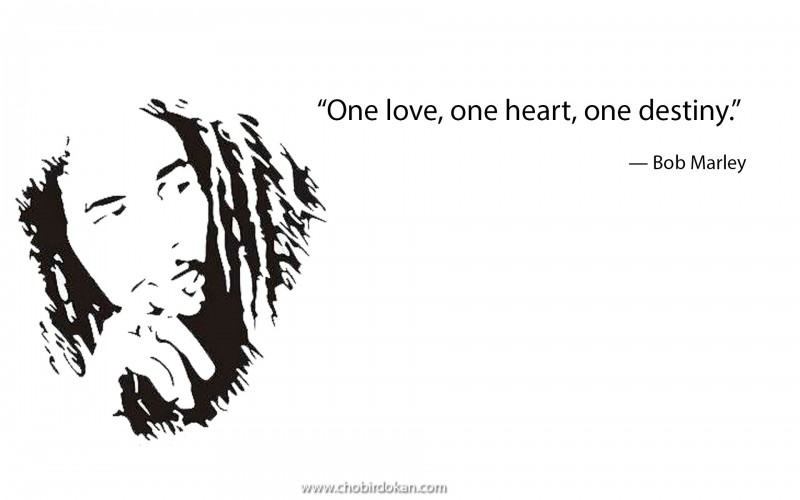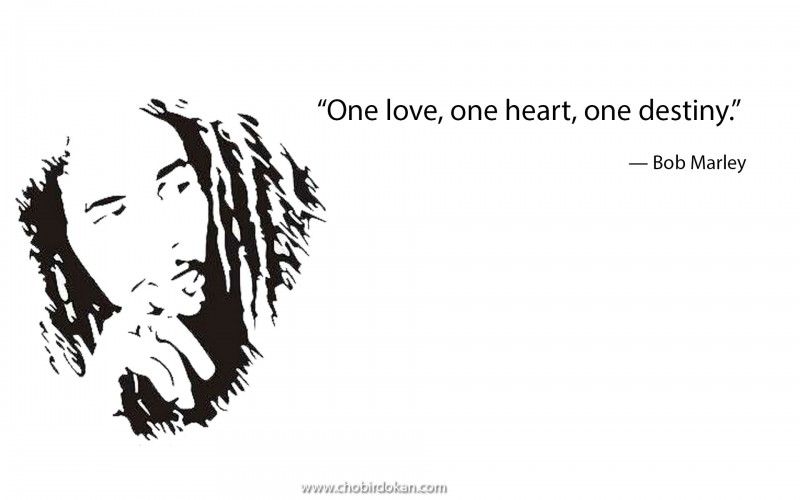 Quote#5: The Only Thing Matters To You Must Be Love
"You may not be her first, her last, or her only. She loved before she may love again. But if she loves you now, what else matters? She's not perfect—you aren't either, and the two of you may never be perfect together but if she can make you laugh, cause you to think twice, and admit to being human and making mistakes, hold onto her and give her the most you can. She may not be thinking about you every second of the day, but she will give you a part of her that she knows you can break—her heart. So don't hurt her, don't change her, don't analyze and don't expect more than she can give. Smile when she makes you happy, let her know when she makes you mad, and miss her when she's not there."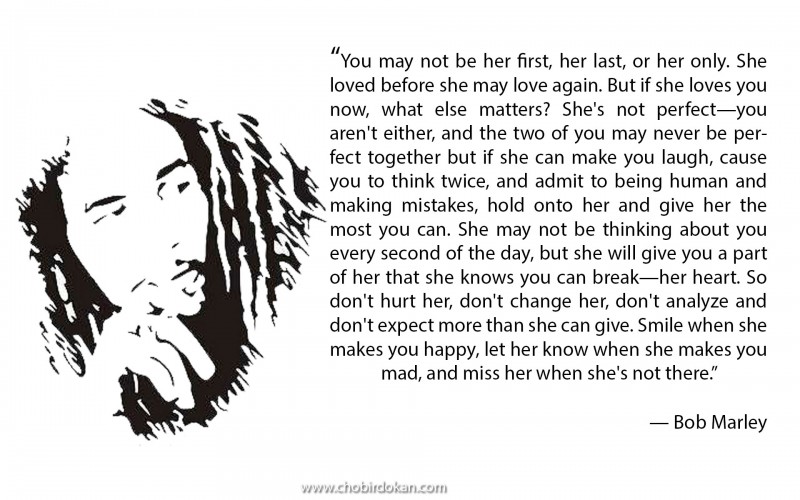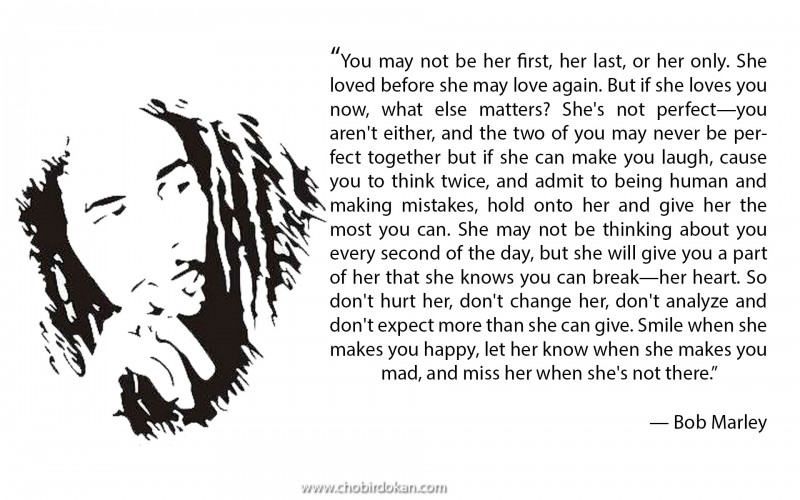 Quote#6: Don't Run Behind Illusions
To win anything amazing and worthy is not that easy at all, it always needs extra effort. If you are not ready to do that hard work, you will never be blessed with that amazing thing. The same thing is applicable in love too. To win the heart of a worthy, amazing woman, you have to prove yourself worthy through your effort and hard work. If you give up, just remember, you yourself are not worthy to get anything amazing.
"If she's amazing, she won't be easy. If she's easy, she won't be amazing. If she's worth it, you wont give up. If you give up, you're not worthy. … Truth is, everybody is going to hurt you; you just gotta find the ones worth suffering for."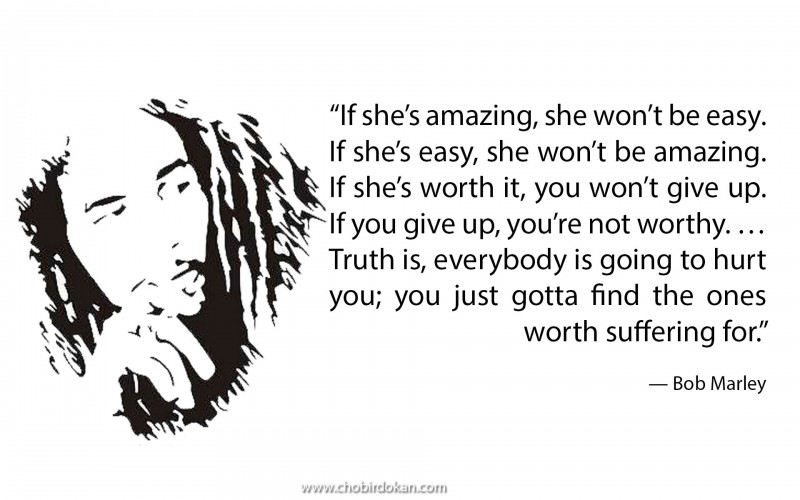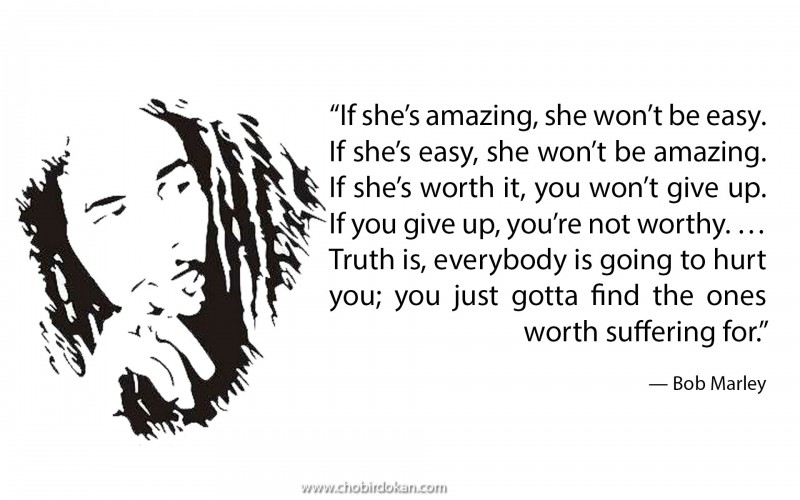 Quote#7: What Else Matters If She Makes You Smile
What do you think? what is the most important ingredient of love? Beauty, Popularity or Wealth? No, dear. If you think so, you are badly wrong. beauty can fade away with time, popularity can be gone and wealth can be lost. But if you two really love each other and she has the ability to make you happy and smile, nothing else really matter. To be happy with each other should get the most priority in successful love.
and he says-
"she may not be the most popular or prettiest but if you love her and she makes you smile.. what else matters?"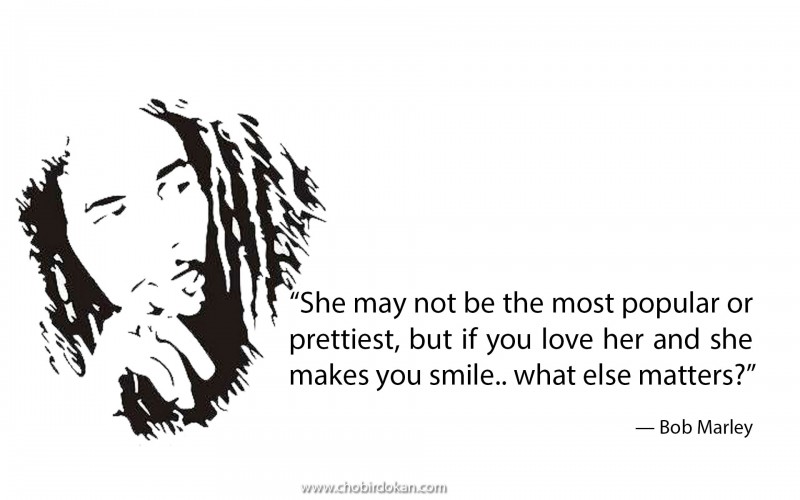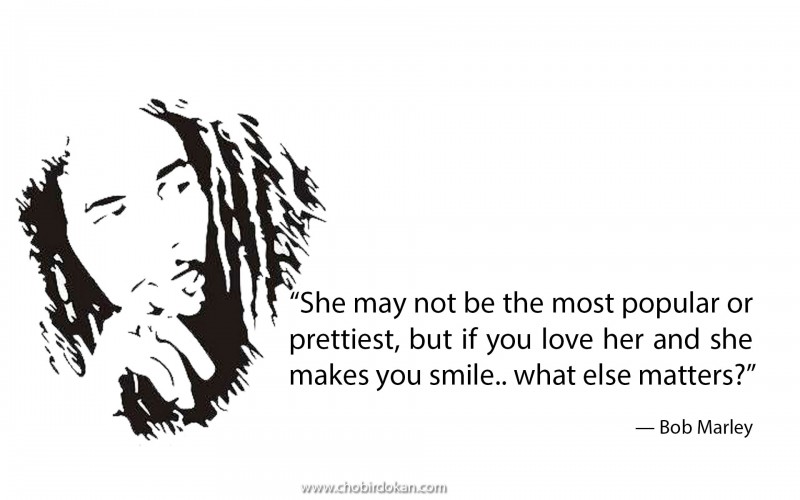 Quote#8: Only Once In Your Life
"Only once in your life, I truly believe, you find someone who can completely turn your world around. You tell them things that you've never shared with another soul and they absorb everything you say and actually want to hear more. You share hopes for the future, dreams that will never come true, goals that were never achieved and the many disappointments life has thrown at you. When something wonderful happens, you can't wait to tell them about it, knowing they will share in your excitement. They are not embarrassed to cry with you when you are hurting or laugh with you when you make a fool of yourself. Never do they hurt your feelings or make you feel like you are not good enough, but rather they build you up and show you the things about yourself that make you special and even beautiful. There is never any pressure, jealousy or competition but only a quiet calmness when they are around. You can be yourself and not worry about what they will think of you because they love you for who you are. The things that seem insignificant to most people such as a note, song or walk become invaluable treasures kept safe in your heart to cherish forever. Memories of your childhood come back and are so clear and vivid it's like being young again. Colours seem brighter and more brilliant. Laughter seems part of daily life where before it was infrequent or didn't exist at all. A phone call or two during the day helps to get you through a long day's work and always brings a smile to your face. In their presence, there's no need for continuous conversation, but you find you're quite content in just having them nearby. Things that never interested you before become fascinating because you know they are important to this person who is so special to you. You think of this person on every occasion and in everything you do. Simple things bring them to mind like a pale blue sky, gentle wind or even a storm cloud on the horizon. You open your heart knowing that there's a chance it may be broken one day and in opening your heart, you experience a love and joy that you never dreamed possible. You find that being vulnerable is the only way to allow your heart to feel true pleasure that's so real it scares you. You find strength in knowing you have a true friend and possibly a soul mate who will remain loyal to the end. Life seems completely different, exciting and worthwhile. Your only hope and security is in knowing that they are a part of your life."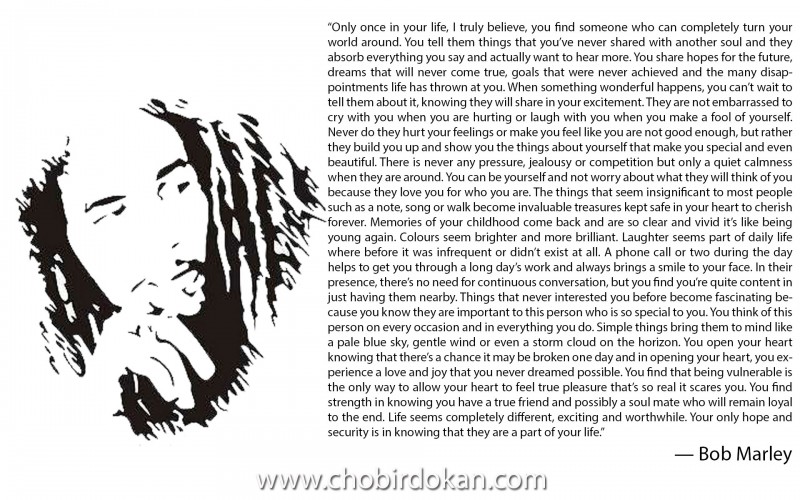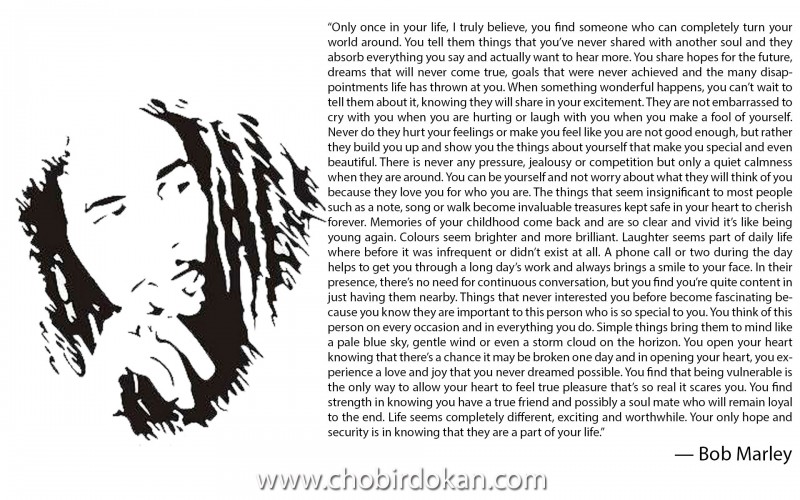 Quote#9: The Greatness Of a man
"The greatness of a man is not in how much wealth he acquires, but in his integrity and his ability to affect those around him positively"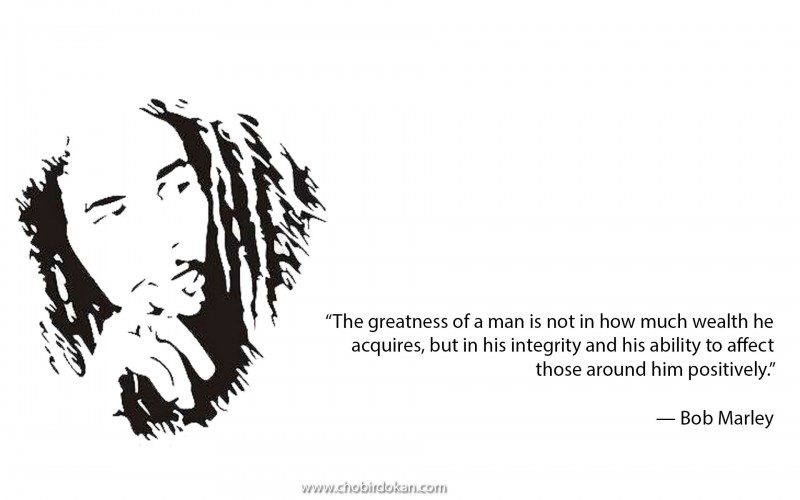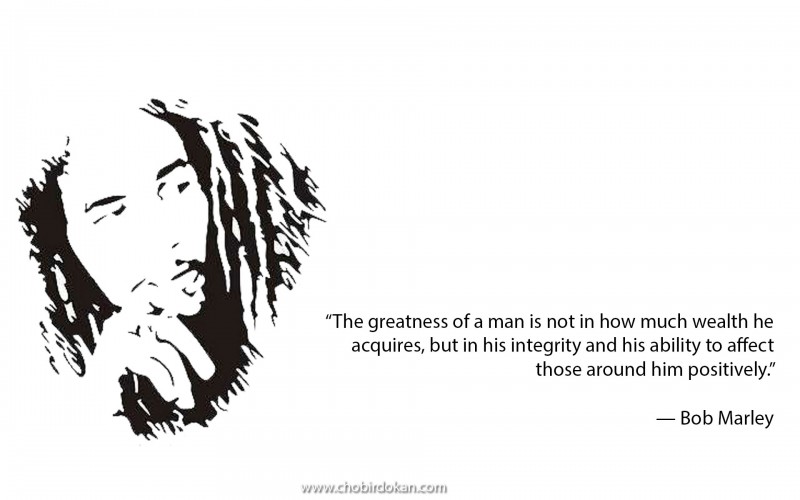 Quote#10: The Truth About Love and Friendship
Though bitter, this is the greatest reality on earth everyone, yes everyone, is going to hurt you. No matter how much you love, how much you care for him/her, s/he will hurt you. This is because the differences between two persons' mentality, the point of view, the way of thinking, preference level and so on. But amidst all these, knowing this bitter truth that you will be hurt, you have to decide and choose someone for whom you will suffer, for whom your sufferings will be worthy.
"The truth is, everyone is going to hurt you. You just got to find the ones worth suffering for."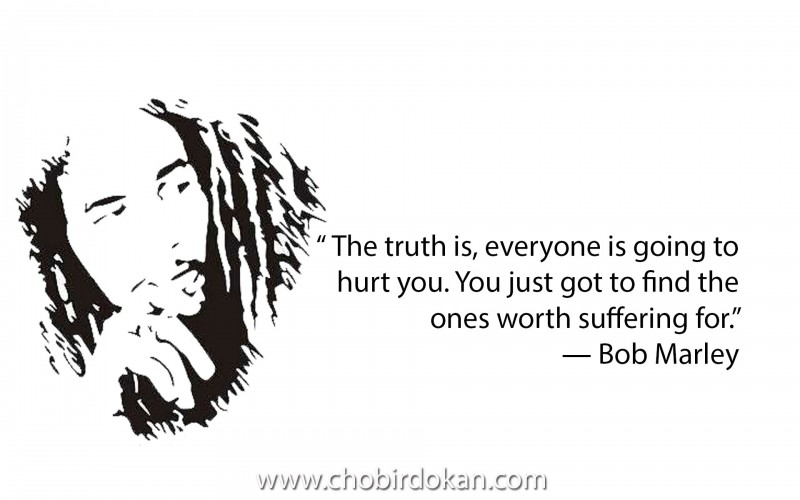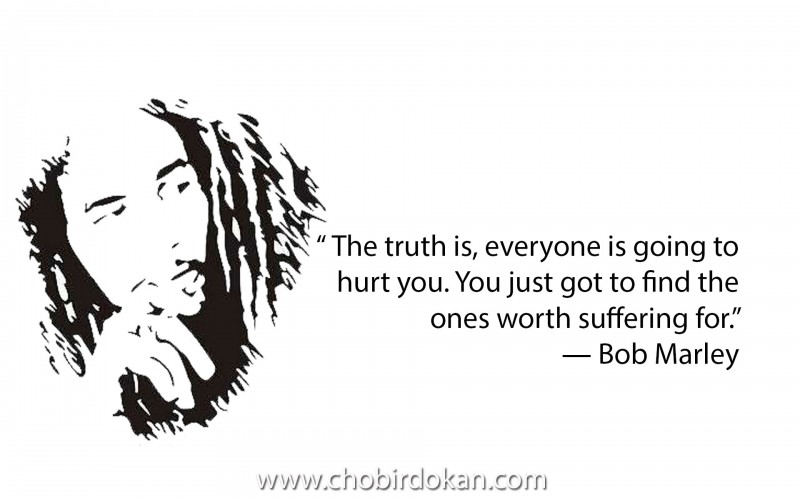 Bob Marley Quotes about Life
Quote#11
To be present in a situation and to feel the situation these two are completely different. Anyone can remain in the scene but it needs a sensible, kind, true, emotional heart to feel. It's really easy to get wet in the rain, but everyone is not able to feel the magic, the soothing power of rain.
"Some people feel the rain. Others just get wet."
Quote#12
We, most of the human beings, have a very stupid tendency that we love to readily judge about someone or something. We even do not think about our own quality or how much worthy we are for making the judgment. But we should judge ourselves first before judging anybody else. And for that we should be ready at first, we should make sure that we ourselves are prepared enough for judging anyone.
"Judge not before you judge yourself. Judge not if you're not ready for judgment."
Quote#13
We have no right to judge other's life. No one is perfect in this world, not even we. So, being an imperfect person, it's totally wrong to judge any other, to point at any other's fault. Before judging anyone, our first priority should be made ourselves flawless and clean. If we can do so, only and only then we can make a judgment about others, otherwise not.
"Who are you to judge the life I live? I know I'm not perfect and I don't live to be but before you start pointing fingers, make sure you hands are clean!"
Quote#14
A man's greatness doesn't depend on how much rich he is or on how much wealth he has, rather depends on his honesty, integrity, good behavior, on the way how he can positively influence and motivate the people around him.
The greatness of a man is not in how much wealth he acquires, but in his integrity and his ability to affect those around him positively
So, What do you think now? Aren't these quotes really great! I am really in love with Bob Marley Quotes. What About you?