Romantic painting of famous artist are a great attraction  for love couple who wishes to decor their bedroom with them. From the ancient period to modern period, there are so many artist contribute this world with their great power of creative artwork. Today, I would like to introduce you all some best and trending romantic paintings of love couple.Hope you all enjoy this post.
Romeo and Juliet- A famous Oil painting
Romeo and Juliet painted by Frank Bernard Dicksee in 1884 is one of the most popular oil painting around the world. because we all still crave 'passion and faithfulness'.
Buy Romeo & Juliet Oil Painting From AMAZON.COM or AMAZON UK or AMAZON AU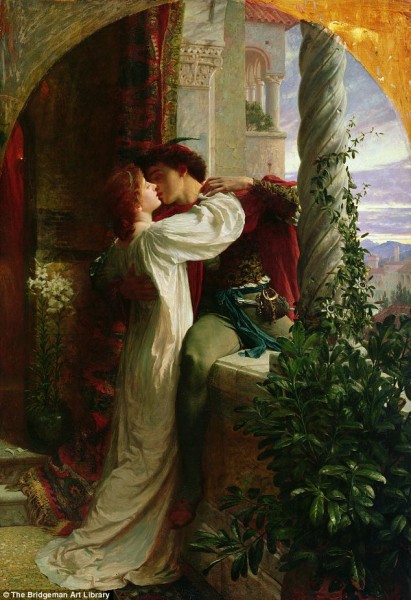 The Storm – A famous Romantic Paintings
The Storm  is a  great painting by French artist Pierre Auguste Cot, completed in 1880. This oil painting is Currently  displaied at New York's Metropolitan Museum of Art. The artist told the story behind this painting which is-
One day, while descending from the mountaintop, I saw Virginie running from one end of the garden toward the house, her head covered by her overskirt, which she had lifted from behind her in order to gain shelter from a rainshower. From a distance I had thought she was alone; but upon coming closer to help her walk I saw that by the arm she held Paul who was almost entirely covered by the same blanket. Both were laughing together in the shelter of this umbrella of their own invention
Buy The storm from Amazon.com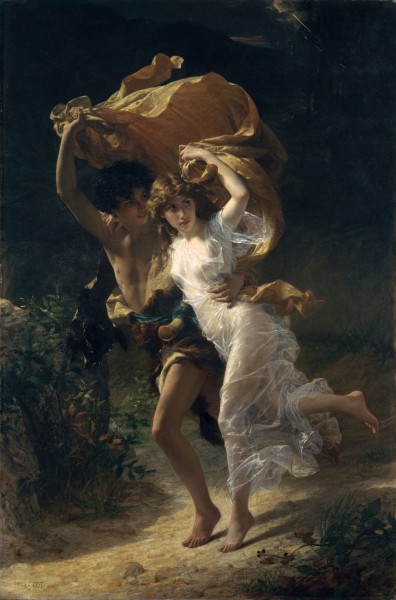 A dream for two-romantic painting
A dream for two is a romantic painting by Gogalniceanu Carolina  where oil on canvas representing a dream of sleeping lovers embrace in a crystal clear water, making it a pillow rock, fish swimming near them.
Buy A dream for two from Absolute Art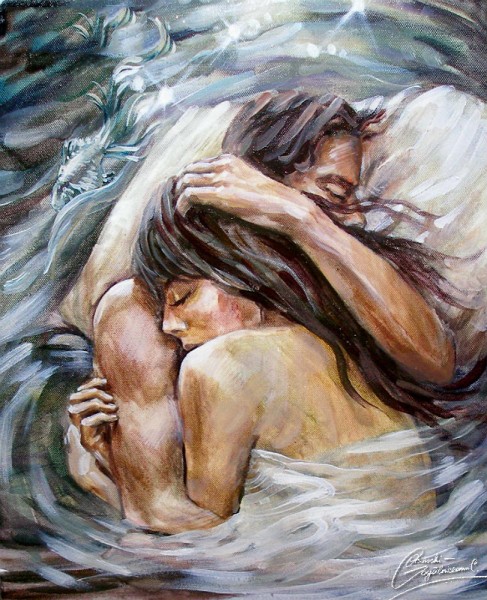 Lovers Sleeping-oil on wood panel
A young couple sleeping on bed or lover sleeping is a great art work of meredith o'neal. This piece would look great hanging in an intimate space such as a master bedroom or guest room!
Buy This love couple sleeping in bed from Etsy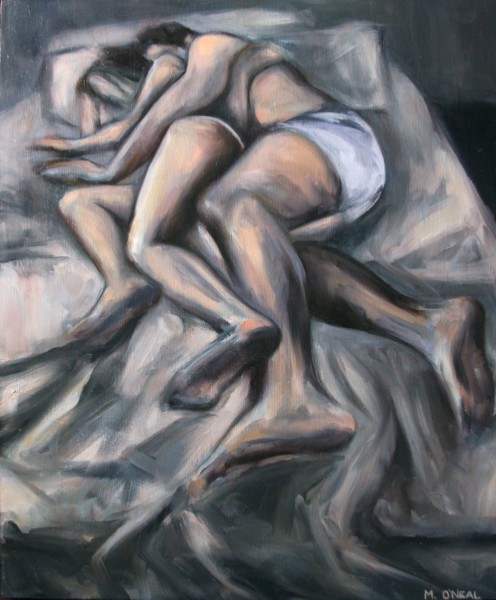 The Kiss-Oil Painting of passionate Love Couple
The Kiss is an 1859 painting by the Italian artist Francesco Hayez. It is possibly his best known work. In this painting two lover is kissing passionately standing in a corridor in front of staircase.
Buy this love couple kissing painting from Amazon.com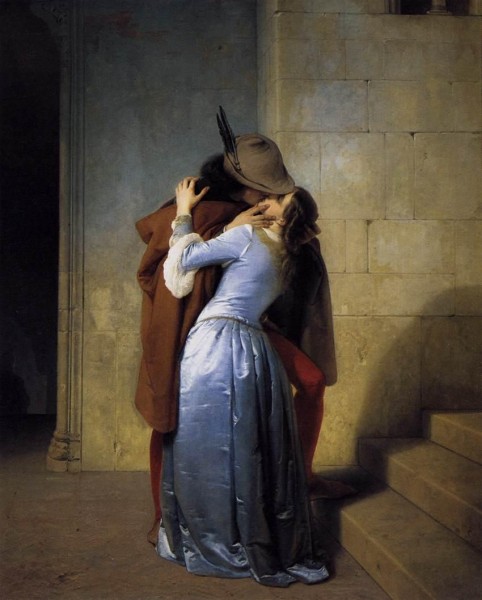 The Abduction of Psyche-the symbol of Love & Romance
The Abduction of Psyche by William-Adolphe Bouguereau is a great paining for cupid lover. Psyche  is a former mortal woman and goddess of the soul in Greek mythology. She is the wife of Eros (Cupid).
Buy Thae abduction of Psyche from Amazon.com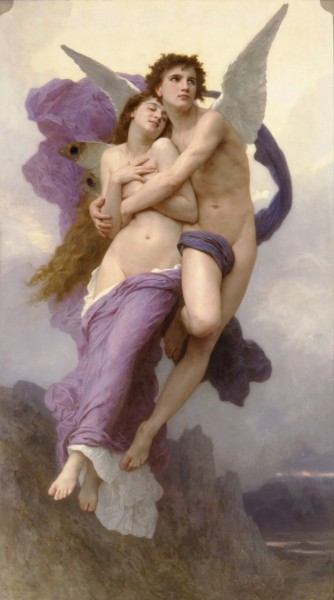 The Kiss-A beautiful oil painting of Love Couple Kiss
The Kiss (Lovers) was painted by the Austrian Symbolist painter Gustav Klimt between 1908 and 1909, the highpoint of his "Golden Period", when he painted a number of works in a similar gilded style. A perfect square, the canvas depicts a couple embracing, their bodies entwined in elaborate robes decorated in a style influenced by both linear constructs of the contemporary Art Nouveau style and the organic forms of the earlier Arts and Crafts movement. The work is composed of oil paint with applied layers of gold leaf, an aspect that gives it its strikingly modern, yet evocative appearance. The painting is now in the Österreichische Galerie Belvedere museum in the Belvedere palace, Vienna, and is widely considered a masterpiece of the early modern period. It is a symbol of Vienna Jugendstil—Viennese Art Nouveau—and is considered Klimt's most popular work.
Buy the kiss from Amazon.com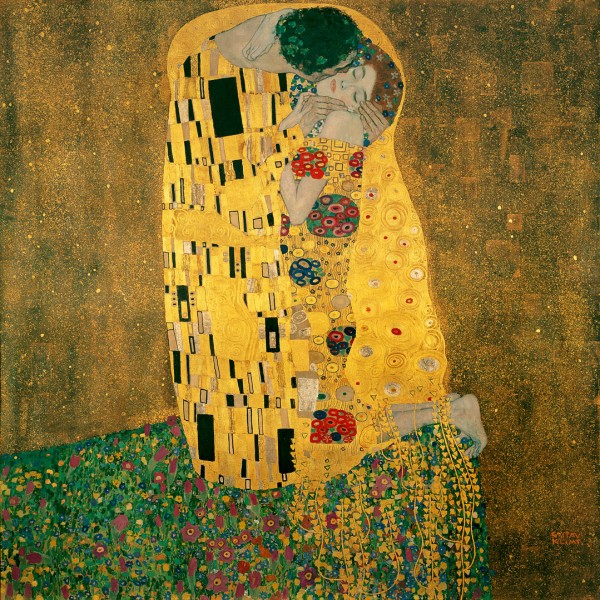 The Fisherman and the Syren- A romantic art paintings
The Fisherman and the Syren (1856–1858) is one of the best work by Frederic Leighton. This early work both illustrated and was inspired by a poem by Goethe, which tells the story of a mermaid who rises from the waters to complain to a fisherman that he is enticing her children to death. Gradually the mermaid's own beauty lures the fisherman into the water and to oblivion. A contemporary critic noted the 'irresistible seductiveness' of the mermaid but he observed also that this 'young artist has plainly drunk long and eagerly at the fount of beauty that assuaged the thirst of Leonardo, Michelangelo and Raphael'. It was in exactly that spirit that Leighton was to be so much admired.
Buy this sexy mermaid and fisher man painting from Amazon.com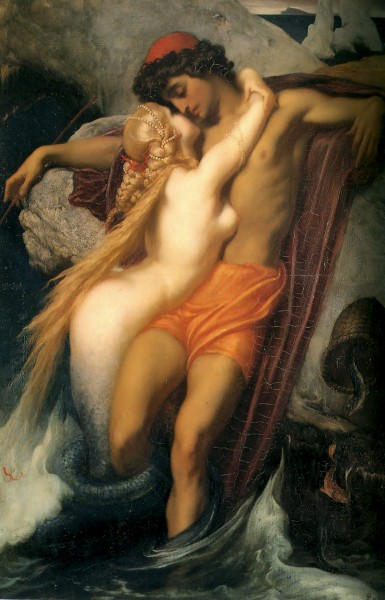 Spring- A Rare Oil painting of a symbiotic pair
Spring is another great painting by French artist Pierre Auguste Cot. and a collection of Metropolitan Museum of Art, New York City.
Buy Spring love couple painting from Amazon.com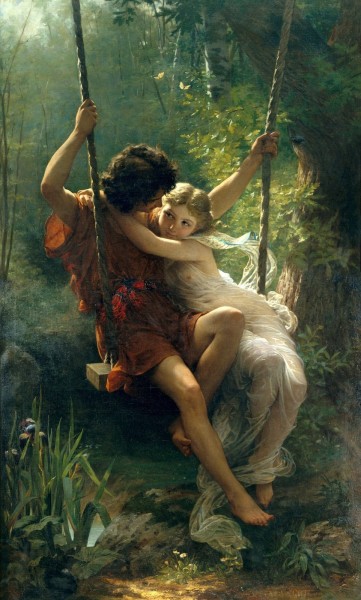 The Painter's Honeymoon—Painting on Honeymoon Couple
The Painter's Honeymoon is a painting by Lord Frederic Leighton, produced in c. 1864 and currently housed at the Museum of Fine Arts, Boston.The composition and glowing color of Painter's Honeymoon reflect the influence of such sixteenth-century Venetian painters as Giorgione and Titian.
Buy painter honeymoon painting from Amazon.com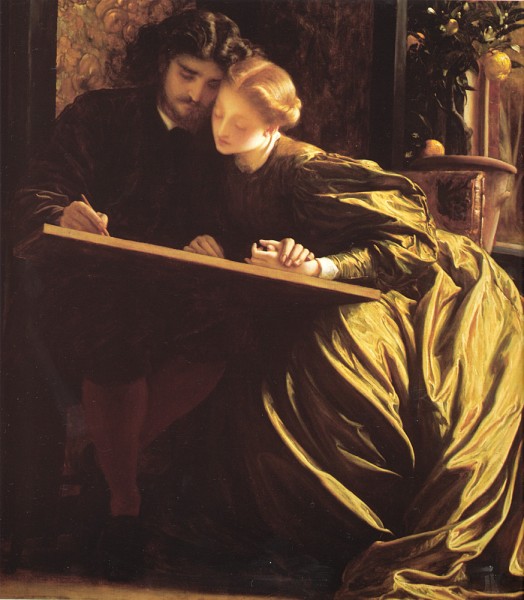 He Gave Me The Brightest Star—emotionally touching painting
He Gave Me The Brightest Star is a surrealistic illustration of love by a contemporary artist Adrian Borda. Originally the piece is done as an oil work. Enjoy the beauty and color of this painting reproduced as a fine canvas print. Adrian Borda is a Contemporary Surrealist, born 1978 in Reghin – Romania. He says the place where he lives is peaceful with no social life, ideal to observe the artistic fights inside him. He's an inner traveller, exploring the mysterious and extremly complex subconscious world. In his real life as well as in his art he doesn't care about conventions and the taboos. Borda started painting 16 years ago, after attending the Art High School in Targu-Mures, then specialized at Iasi, "George Enescu" University, Faculty of Fine Arts and Design. He exhibited in Romania and the Netherlands with his paintings held in private collections all over the world.
Buy this cute romantic oil painting from Amazon.com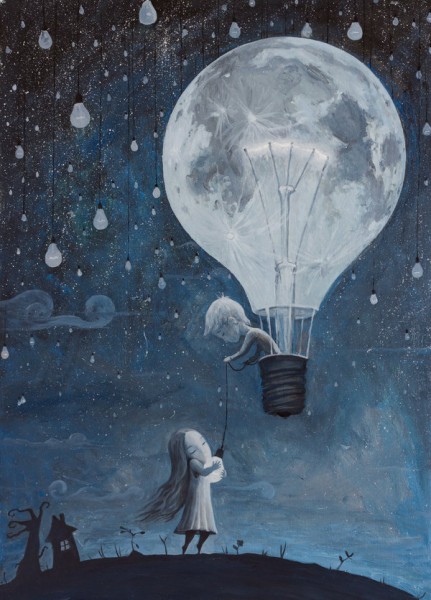 Hellelil and Hildebrand or The Meeting on the Turret Stairs—the final embrace of two lovers
"Meeting on the Turret Stairs" aka "Hellelil and Hildebrand" by Sir Frederic William Burton, Based on a story of ill-fated love, this painting shows a tender moment between two doomed lovers.
Buy The final hug of two love couple from Amazon.com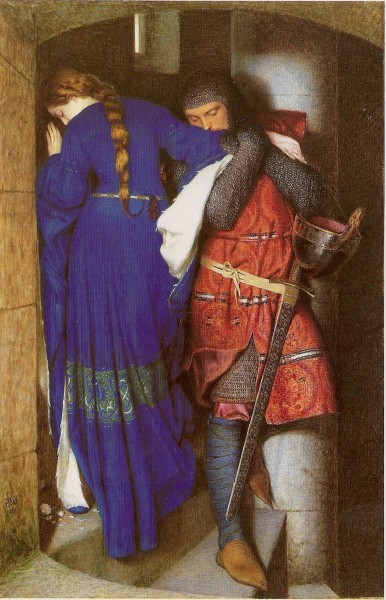 CUBIST OIL PAINTING—LOVING COUPLE
Cubist oil painting of loving couple is a modern piece of artwork.Contemporary abstract cubist oil is a popular piece of art work for home decor , room decor or office decoration.
Buy this loving couple oil painting from Ebay.com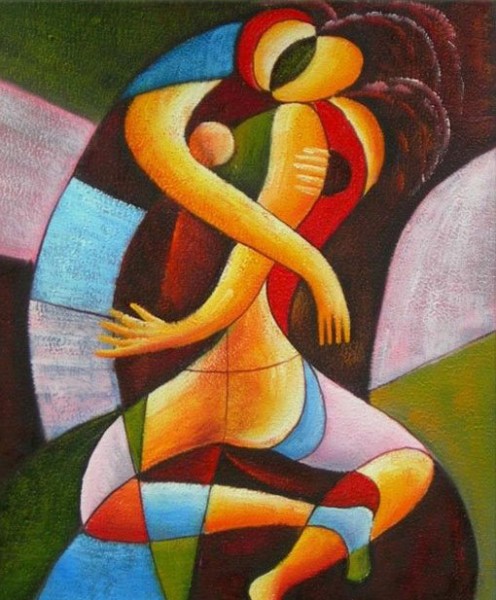 Tango II—One of the most romantic paintings
Tango II shows a beautiful couple dancing the Tango. Large brush strokes really show the power in this striking pose. Enjoy the beauty of this painting in every room or work space. Mark grew up in the Cotswolds and started painting from a young age but didn't start exhibiting until his early twenties. Since then each exhibition has been more and more successful and his paintings can now been seen throughout the country on a regular basis. His paintings are filled with emotion, desire and movement – most focusing on dancers or scenes from bars, restaurants and cafes. He is currently working on a ballerina series.
Buy this dancing couple painting from ebay.com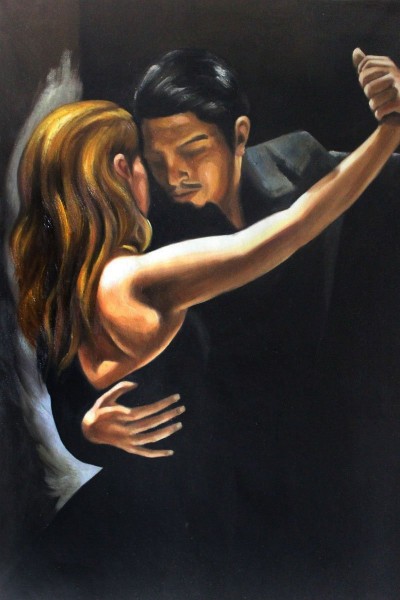 The Lovers-A landscape oil painting of two Lovers
The Lovers II, 1928 by Rene Magritte  is an oil on canvas depicting two individuals locked in an embrace. The figures are kissing one another through veils.The elements that make up this painting are the room and the lovers. The way the room is painted makes it seem almost insignificant. The bold colors are shadowed and there are no windows to give perspective. However it is unusual to see a room with such a variety of colored walls. The lovers are the primary object and the one that adds the most mystery and intrigue. The way they are both positioned is suggestive. The man is in a dominant position with his shoulders angled. The woman appears to be tilting her hear up towards him but after looking at the position of her body as well it appears more like she is leaning backwards. The most significant aspect of the lovers is the veils. It is actually a rather bland painting however by simply covering the faces with veils it becomes far more interesting and thought provoking. The psychological impact however is far greater with all of these elements. The color blue is associated with calm or water which is associated with life. The color red is associated with anger, lust and love while white is associated with purity which also happens to be the least shown. Black is commonly associated with death which the man may be representative of. The woman is dressed in red which may mean love or passion. The veils are of a whitish or grayish color and depending upon how you see it could mean purity or could mean the purity is fading or tainted. Trying to put all of these elements together to form a single meaning is rather difficult. It is the culmination of elements that are supposed to impact the viewer.
Buy this passionate lover kiss painting from Aliexpress.com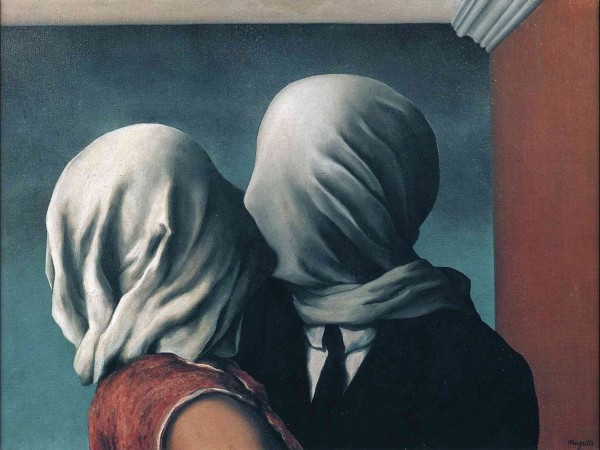 Large Hand Painted Nude Art Human Mixture Bodies
Nude human bodies are mixed in a artistic way in this painting. This painting is also a great example of creative Illustration Art work.
Buy this nude human body painting from ebay.com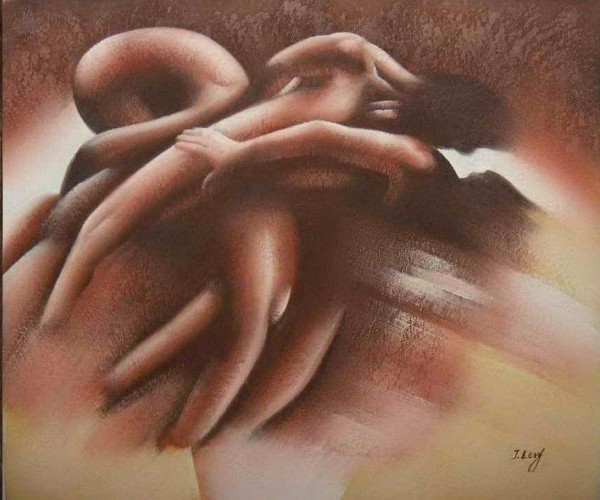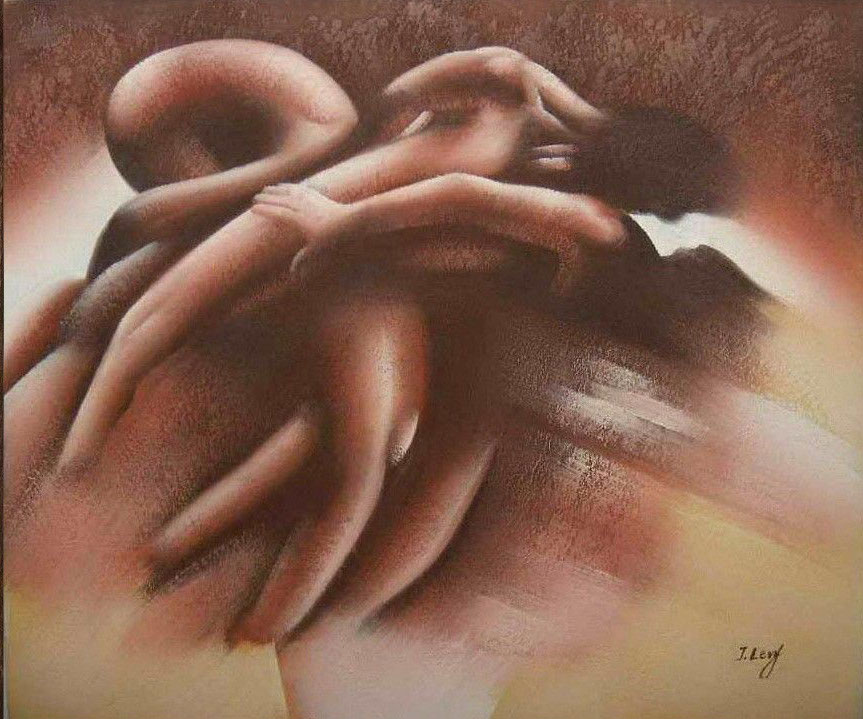 Coastal Drive—romantic painting on coastal drive
Coastal drive is a great creation of Brent Lynch who is a powerful figurative and landscape artist whose work is passionate and daring. Using bold brushstrokes and dynamic flourishes of light, shadow and movement, Lynch pushes the envelope with intense imagery and daring innovation. Early in his career, Lynch illustrated books and designed record covers, but is best known for posters of the ballet, opera, theater and sporting events, including the Olympics. Lynch now devotes himself to painting, and has created murals and artworks for public and private collections. He has received many awards for illustration and design, and recently claimed the Silver Medal in the International AIM for Art Exhibition.
Buy this love painting from art.com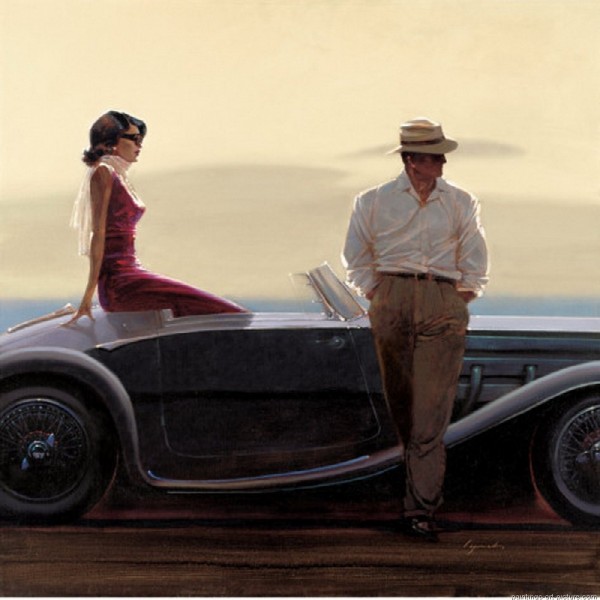 In Bed The Kiss—romantic paintings for bedroom
This captivating 1892 artwork, In Bed: The Kiss, by Toulouse-Lautrec features two women caught up in a passionate moment. In fact, the artist considers this painting as the epitome of pleasurable and sensual delight. The color scheme that he selected was brilliant with shades of red and yellow, which were subdued by grey, green and blue. This enchanting masterpiece expresses the tender love shared by the couple, as though they were fearful of being separated from each other.
Buy this couple bed kiss artwork from Zazzle.com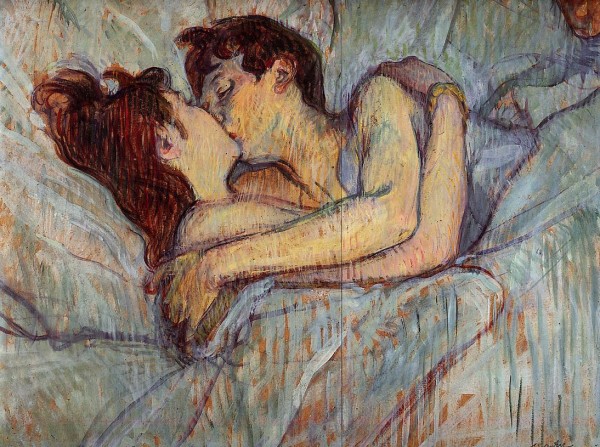 Promise : Nude Love couple hug Tightly
This is so cute painting and a mast have collection for emotional lover. Buy this painting from Art brokerage
Some Creative Work From Leonid Afremov
Leonid Afremov is one of the most distinguished contemporary artists known for his unusual painting manner and a powerful emotional impact his artworks have on a human soul. A man of great talent and imagination, he tries to find inspiration in simple things that can sometimes hold more meaning than the loudest words. Looking for new impressions and fresh ideas, Leonid has travelled to numerous countries taking in everything he saw to tell it in the language of color on one of his bright, eye-striking canvasses. Creative, cheerful and dreamy like himself, they convey a strong positive message filling your heart with peace, harmony and delight.
SEA OF FEELINGS- Sexy couple Art Work
Sea of feelings -palette knife is a adult Oil Painting On Canvas By Leonid Afremov . This painting is so colorful and erotic also.
Buy this hot and sexy art work from Afremov.com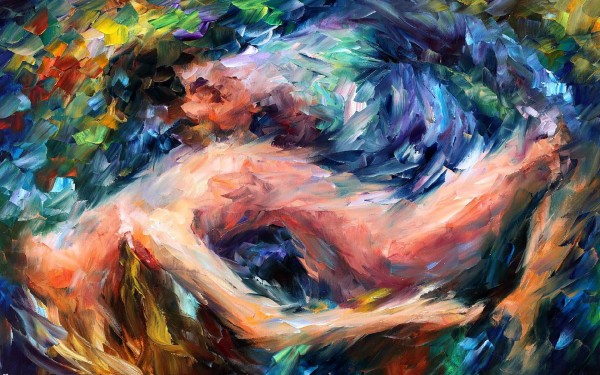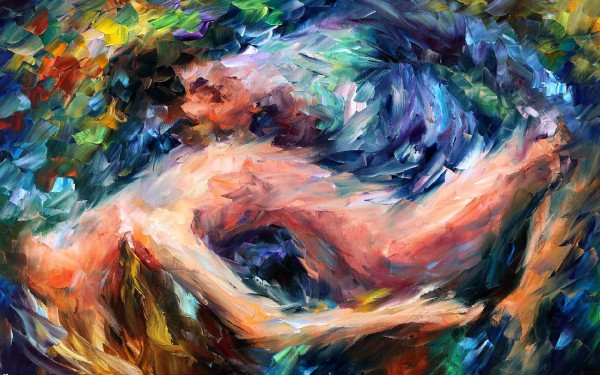 Passion- Figures Of Lovers Oil Painting
Another great 18+ Oil Painting On Canvas By Leonid Afremov. Passion represent the intense moments of love couple in a great way.
Buy this 18+ painting from Amazon.com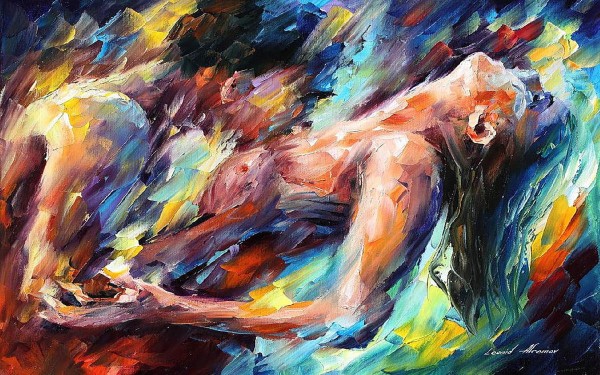 OLD KISS—Kiss oil Painting of Love pair
Old kiss is  anothe palette knife Oil Painting On Canvas By Leonid Afremov. For More: Afremov.com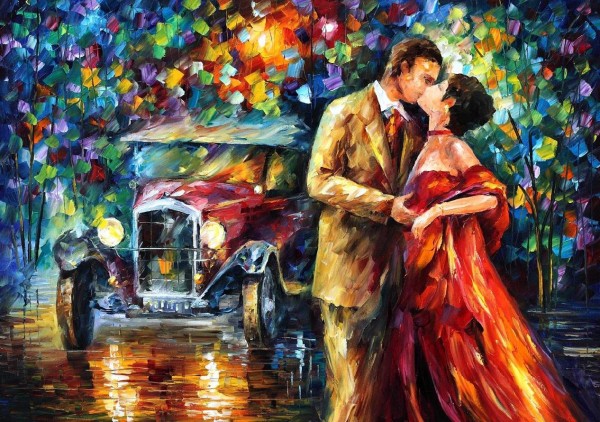 Rain's Rustle—PALETTE KNIFE-A beautiful oil painting
Buy this romantic couple walking on street while raining from afremov.com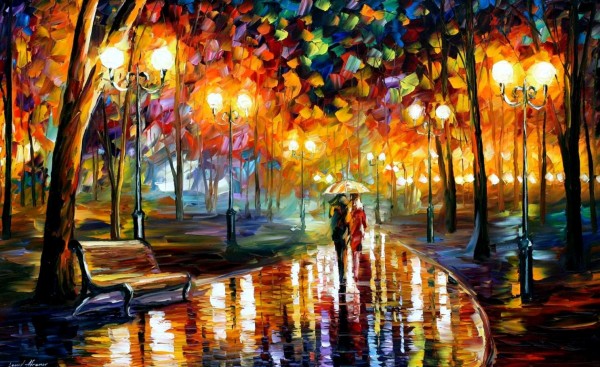 I know there are so many great artwork which are not mentioned in this post. If i miss any, Pleas let me know by your valuable comment. So that i can updated the post and make it better collection.