There are some love stories in literature that always remain alive in our hearts. While reading such piece of literary works, we just forget that the lovers are only characters of the pages. We begin to sympathize with them, to cry for them. The same thing has been happening for ages for some immortal couples of literature.
Here, I've collected the top 10 most famous couples' love stories in literature. Hope, you'll like them..
Top 10 Most Famous Couples' Love Stories In Literature
 

1.Romeo and Juliet:
Romeo and Juliet, probably are the most famous lovers ever. This couple has become a synonym for love itself. 'Romeo and Juliet' is a tragedy by William Shakespeare. The love story is of two teenagers from two feuding families who fall in love at first sight, is very tragic. To get her lover permanently as her own, Juliet makes a plan with Friar Laurence. He gives her a drug that will put her into a death-like coma for "two and forty hours." The Friar promises to send a messenger to inform Romeo of the plan, so that he can rejoin her when she awakens. On the night before the wedding, she takes the drug and, when discovered apparently dead, she is laid in the family crypt. The messenger, however, does not reach Romeo and, instead, Romeo learns of Juliet's apparent death from his servant Balthasar. Believing Juliet to be dead, heart-broken Romeo drinks the poison. Juliet then awakens and, finding Romeo dead, stabs herself with his dagger. This 'untimely death' for their love makes these lovers immortal. The play ends with the elegy for the lovers: "For never was a story of more woe / Than this of Juliet and her Romeo."
2.Lancelot and Guinevere:
The tragic love story of Sir Lancelot and Queen Guinevere is probably one of the best-known stories of Arthurian Legend. Lancelot fall in love with Queen Guinevere, King Arthur's wife. Their love grew slowly, as Guinevere kept Lancelot away from her. Eventually, however, her love and passion overpowered her and the pair became lovers. One night, Sir Agravain and Sir Modred, King Arthur's nephew, led a band of 12 knights to Guinevere's chamber where they burst in upon the lovers. Discovered, Sir Lancelot made a fighting escape, but poor Guinevere was not so lucky. She was seized and condemned to burn to death for her adultery. Fear not. Sir Lancelot returned several days later to rescue his beloved Guinevere from the fire. This whole sad affair divided the Knights of the Round Table and weakened Arthur's kingdom. Poor Lancelot ended his days as a lowly hermit and Guinevere became a nun at Amesbury where she died.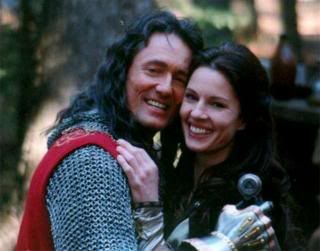 3.Orpheus and Eurydice:
The story of Orpheus and Eurydice  is an ancient Greek tale of desperate love. Orpheus fell deeply in love with and married Eurydice, a beautiful nymph. They were very much in love and very happy together. Aristaeus, a Greek god of the land and agriculture, became quite fond of Eurydice, and actively pursued her. While fleeing from Aristaeus, Eurydice ran into a nest of snakes which bit her fatally on her legs. Distraught, Orpheus played such sad songs and sang so mournfully that all the nymphs and gods wept. On their advice, Orpheus traveled to the underworld and by his music softened the hearts of Hades and Persephone (he was the only person ever to do so), who agreed to allow Eurydice to return with him to earth on one condition: he should walk in front of her and not look back until they both had reached the upper world. In his anxiety he forgot that both needed to be in the upper world, and he turned to look at her, and she vanished for the second time, but now forever.
4.Paolo and Francesca:
Paolo and Francesca are made famous by the Dante's masterpiece "Divine Comedy". It is a true story: Francesca is married with Gianciotto Malatesta, an awful person, but she has Gianciotto's brother, Paolo, as lover. The love between them grows when they read together a book (according to Dante) about Lancelot and Guinevere. When the two lovers are discovered they are killed by Gianciotto.
5. Scarlett O'Hara and Rhett Butler:
Margaret Mitchell's famous work "Gone with the wind" can be identified as one of the immortal pieces of literary works in this world. It has chronicled the love and hate relationship between Scarlett O'Hara and Rhett Butler. Proving that timing is everything, Scarlett O'Hara and Rhett Butler never seem to be quite in synch. Throughout the epic story, this tempestuous twosome experience passion but not permanence, and their stormy marriage reflects the surrounding Civil War battles. The flirtatious, promiscuous, and perpetually pursued Scarlett can't make up her mind between her many suitors. When she finally decides to settle on being happy with Rhett, her fickle nature has already driven him away. Hope springs eternal in our devious heroine, however, and the novel ends with Scarlett proclaiming, "Tomorrow is another day."
6.Jane Eyre and Rochester:
In Charlotte Bronte's famous tale, friendless characters find a cure for loneliness in each other's company. Jane, in "Jane Eyre" is an abused orphan employed as a governess to the charge of an abrasive, but very rich Edward Rochester. The improbable pair grow close as Rochester reveals a tender heart beneath his gruff exterior. He does not, however, reveal his penchant for polygamy – on their wedding day, a horrified Jane discovers he is already married. Heartbroken, Jane runs away, but later returns after a dreadful fire has destroyed Rochester's mansion, killed his wife, and left him blind. Love triumphs, and the two reunite and live out their days in shared bliss.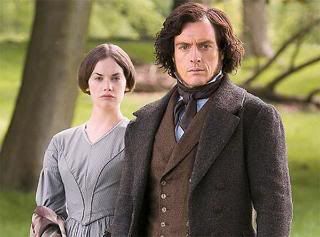 7.Layla and Majnun:
A leading medieval poet of Iran, Nizami of Ganje is known especially for his romantic poem, "Layla and Majnun".Inspired by an Arab legend, Layla and Majnun is a tragic tale about unattainable love. It had been told and retold for centuries. Layla and Qays fall in love while at school. Their love is observed and they are soon prevented from seeing one another. In misery, Qays banishes himself to the desert to live among and be consoled by animals. He neglects to eat and becomes emaciated. Due to his eccentric behavior, he becomes known as Majnun (madman). There he befriends an elderly Bedouin who promises to win him Layla's hand through warfare. Layla's tribe is defeated, but her father continues to refuse her marriage to Majnun because of his mad behavior, and she is married to another. After the death of Layla's husband, the old Bedouin facilitates a meeting between Layla and Majnun, but they are never fully reconciled in life. Upon death, they are buried side by side. The story is often interpreted as an allegory of the soul's yearning to be united with the divine.
8.Elizabeth Bennett and Darcy:
Actually Jane Austen, in her famous work "Pride & Prejudice", has personified two attributes of human nature, pride and prejudice in Darcy and Elizabeth. Darcy comes from a very high social hierarchy and Pemberley. He typifies the educated aristocracy while on the other hand, Elizabeth is the second daughter of a gentleman of modest means. Mr. Bennett has five daughters who have been allowed to grow up the way they wanted, there has been no school education for them, nor has there been any governess at home. Elizabeth's very indulgent mother and irresponsible father never gave any thought to the future of the daughters, it is always taken for granted, that they will do well for themselves. To a woman of Mrs. Bennett's understanding, doing well exclusively means finding a rich, well to do husband. For a man of Darcy's social stature, these were very serious failings of the family and totally unacceptable to his polished, educated and refined mind. Darcy adores Pemberley, and the future mistress of that estate can only be just as polished and refined and from an equally prestigious family. He falls in love with Elizabeth only to be refused by her initially, and then much later she realized that she can love no one but Darcy. How they become united and understand the love for each other makes very interesting study.
9. Othello and Desdemona:
Everyone thinks of "Othello", a great work of William Shakespeare, as a play about jealousy. But the green-eyed monster blocks the view. The jealousy could not exist without the love that drives it. Othello and Desdemona's love is at least as brave as Romeo and Juliet's. It is a lonely enterprise that defies racist scorn. Othello is a lover with the gift of the gab and the noblest of chat-up lines. And Desdemona is so devoted that, even in the face of the terrible change in her husband's amorous weather, she loves him to the last.
10. Pierre and Natasha:
In Leo Tolstoy's "War and Peace", Pierre is the richest man in Russia but he is not available. He has a loveless marriage with a reprobate wife. What is wonderful about Pierre is that he is incapable of falsifying his affections. His love for Natasha is unconceited. Natasha is musical, elfin and flighty – she has made big mistakes in her love life too. Pierre lets her know that if he were free and worthy and handsome enough for her, he would ask her to marry him. She gives him a grateful backward glance. He witnesses, over Moscow, the comet of 1812 – a good sign. After great hardship, they marry.
These are the top 10 famous couple's love stories in literature…some love romances that always remain alive in our hearts…