Some Love Stories are immortal. We still remember such great love stories of some romantic historical couples with wonder and respect. Such love stories remain as examples for all the lovers for generation after generation. They renew and reinforce our respect and faith for love.
Here I've collected the top 10 most famous romantic couples' love stories in history. Hope, you'll like the collection…
Top 10 Most Famous Couples' Love Stories In History
1. Cleopatra and Mark Antony:
The wonderful true love story of Antony and Cleopatra is one of the most memorable, intriguing and moving of all times. The story of these two historical characters had later been dramatized by William Shakespeare, and is still staged all over the world. The  relation between Antony and Cleopatra is a true test of love. They fell in love at first sight. The relationship between these two powerful people put the country of Egypt in a powerful position. But their love affair outraged the Romans who were wary of the growing powers of the Egyptians. Despite all the threats, Antony and Cleopatra got married. It is said that while fighting a battle against Romans, Antony got false news of Cleopatra's death. Shattered, he fell on his sword. When Cleopatra learned about Antony 's death, she was shocked. And she took her own life. Really,great love demands great sacrifices…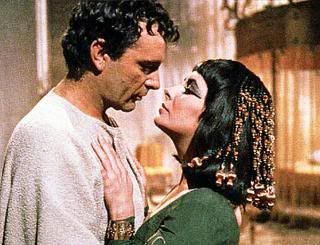 2.Tristan and Isolde:
The tragic love story of Tristan and Isolde has been told and retold through various stories and manuscripts. This great love story took place during medieval times during the reign of King Arthur. Isolde of Ireland was the daughter of the King of Ireland. She was betrothed to King Mark of Cornwall. King Mark sent his nephew, Tristan, to Ireland to escort Isolde back to Cornwall. During the voyage, Isolde and Tristan fell forever in love. Isolde did marry Mark of Cornwall, but could not help but love Tristan. The love affair continued after the marriage. When King Mark finally learned of the affair, he forgave Isolde, but Tristan was banned from Cornwall. Tristan went to Brittany. There he met Iseult of Brittany. He was attracted to her because of the similarity of her name to his true love. He married her, but did not consummate the marriage because of his love for the "true" Isolde. After falling ill, he sent for Isolde in hopes that she would be able to cure him. If she agreed to come, the returning ship's sails would be white, or the sails would be black if she did not agree. Iseult, seeing the white sails, lied to Tristan and told him that the sails were black. He died of grief before Isolde could reach him. Isolde died soon after of a broken heart.
3.Paris and Helena:
The love story of Helen of Troy and Paris is a Greek legend, combining fact and fiction. Helen of Troy is considered one the most beautiful women in all literature. She was married to Menelaus, king of Sparta. Paris, son of King Priam of Troy, fell in love with Helen and abducted her, taking her back to Troy. The Greeks assembled a great army, led by Menelaus's brother, Agamemnon, to retrieve Helen. Troy was destroyed in that great Trojan War. Helen returned safely to Sparta, where she lived happily with Menelaus for the rest of her life.
4.Napoleon and Josephine:
A marriage of convenience, at age 26 Napoleon took a fancy to Josephine, an older, prominent and most importantly wealthy woman. As time drew on, Napoleon fell deeply in love with Josephine, and she with him, but that didn't deter the adultery on both sides-their mutual respect for one another kept them together, and their burning passion between them didn't falter, and was genuine. They eventually split, as Napoleon deeply required something Josephine could not give him, an heir. Sadly they parted ways, both bearing the love and passion in their hearts, for all eternity.
5.Odysseus and Penelope:
Few couples understand sacrifice quite like this Greek pair, Odysseus and Penelope. After being torn apart, they wait twenty long years to be reunited. War takes Odysseus away shortly after his marriage to Penelope. Although she has little hope of his return, she resists the 108 suitors who are anxious to replace her husband. Odysseus is equally devoted, refusing a beautiful sorceress's offer of everlasting love and eternal youth, so that he might return home to his wife and son. True love is worth waiting for…
6. Pyramus and Thisbe:
A heart-touching love story of Pyramus and Thisbe is sure to move anyone who reads it. Theirs was a selfless love, and they made sure that even in death, they were together. Pyramus was the most handsome man and was childhood friend of Thisbe, the fairest maiden in Babylonia. They both lived in neighboring homes and fell in love with each other as they grew up together. However, their parents were dead against their marriage. So one night just before the crack of dawn, while everyone was asleep, they decided to slip out of their homes and meet in the nearby fields near a mulberry tree. Thisbe reached there first. As she waited under the tree, she saw a lion coming near the spring close by to quench its thirst. Its jaws were bloody. When Thisbe saw this horrifying sight, she panicked and ran to hide in some hollow rocks nearby. As she was running, she dropped her veil. The lion came near and picked up the veil in his bloody jaws. At that moment, Pyramus reaches near the mulberry tree and sees Thisbe's veil in the jaws of the lion. He is completely devastated. Shattered, he pierces his chest with his own sword. Unknown to what just happened, Thisbe is still hiding in the rocks due to the fear of the lion. When she comes out after sometime, she sees what her lover did to himself. She is totally shattered when she sees the sword piercing right through her lover's chest. She also takes the sword and kills herself.
7.Salim and Anarkali:
The true love story of Salim and Anarkali is a story that every lover knows. Salim,the son of the great Mughal emperor Akbar, fell in love with an ordinary but beautiful courtesan Anarkali. He was mesmerized by her beauty and fell in love as soon as he saw her. But the Emperor could not digest the fact that his son was in love with an ordinary courtesan. He started pressurizing Anarkali and devised all sorts of tactics to make her fall in the eyes of the young, love smitten prince. When Salim came to know of this, he declared a war against his own father. But the mighty Emperor's gigantic army was too much for the young prince to handle. He got defeated and was sentenced to death. This was when Anarkali intervened and renounced her love to save her beloved from the jaws of death. She was entombed alive in a brick wall right in front of her lover's eyes.
8.Shah Jahan and Mumtaz Mahal:
In 1612, a teenage girl, Arjumand Banu, married 15-year-old Shah Jahan, ruler of the Mughal Empire. Renamed Mumtaz Mahal, she bore Shah Jahan 14 children and became his favorite wife. After Mumtaz died in 1629, the grieving emperor resolved to create a fitting monument. It took 20,000 workers and 1,000 elephants nearly 20 years to complete this monument – the Taj Mahal. Shah Jahan was never able to complete a black marble mausoleum he planned for himself. Deposed by his son, Shah Jahan was imprisoned in the Red Fort of Agra, and spent lonely hours staring across the Jamuna River at the monument to his beloved queen. He was eventually buried beside her in the Taj Mahal.
9.Pocahontas and John Smith:
This love story is a famous legend in the history of America. Pocahontas, an Indian Princess was the daughter of Powhatan. Powhatan was the powerful chief of the Algonquian Indians in the Tidewater region of Virginia. Pocahontas for the first time in her life saw Englishmen in May 1607. She found John Smith most attractive and developed a liking for him. Smith was taken to the official residence of Powhattan and he was tortured. It was Pocahontas who saved his life from the attack of the Indians. Pocahontas then helped Smith to stand on his feet and Powhatan adopted Smith as his son. This incident helped Pocahontas and Smith to become friends with each other. Pocahontas after this incident made frequent visits to the Jamestown and passed on to the Indians messages of her father. John Smith after getting badly injured due to gunpowder explosion, returned to England. When Pocahontas made a visit to the fort, she was informed that Smith was dead. Sometime after, Pocahontas was taken prisoner by Sir Samuel Argall. Argall hoped to use Pocahontas as abargaining chip with her father Powhatan in effort to get English prisoners returned. During her captivity, she decided to become a Christian, taking the name "Rebecca" when she was baptized. A year later, she married John Rolfe. She made a visit to London, where he met his friend John Smith after eight long years and it was their last meeting.
10.Queen Victoria and Prince Albert:
This love story is about English royalty who mourned her husband's death for 40 years. Victoria was a lively, cheerful girl, fond of drawing and painting. She ascended the throne of England in 1837 after the death of her uncle, King William IV. In 1840, she married her first cousin, Prince Albert of Saxe-Coburg-Gotha. While at first Prince Albert was unpopular in some circles because he was German, he came to be admired for his honesty, diligence, and his devotion to his family. The couple had nine children. Victoria loved her husband deeply. She relied on his advice in matters of state, especially in diplomacy. When Albert died in 1861, Victoria was devastated. She did not appear in public for three years. Her extended seclusion generated considerable public criticism. Several attempts were made on Victoria's life. However, under the influence of Prime Minister Benjamin Disraeli, Victoria resumed public life, opening Parliament in 1866. But Victoria never stopped mourning her beloved prince, wearing black until her death in 1901. During her reign, the longest in English history, Britain became a world power on which "the sun never set".
These are the top 10 most famous romantic couples' love stories in history…some love stories that never die….